Mass gainers are a fitness enthusiast favourite product! They taste great, provide ample bang for your buck in calories and above all allow you to gain mass quickly! Serious Mass and Pro Complex Gainer are both excellent weight gainer products from Optimum Nutrition. Let's look closer to see which protein powder will suit your needs most effectively!
Company overview
Optimum Nutrition is a well known supplement company with an extensive track record for selling high quality supplement products. Optimum Nutrition's products are backed by real science and evidence based reviews proving it to be a high caliber company dedicated to your health and wellness!
Serious Mass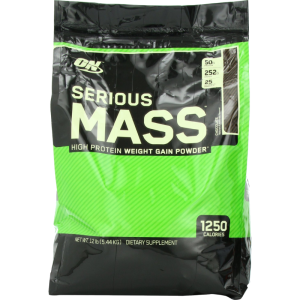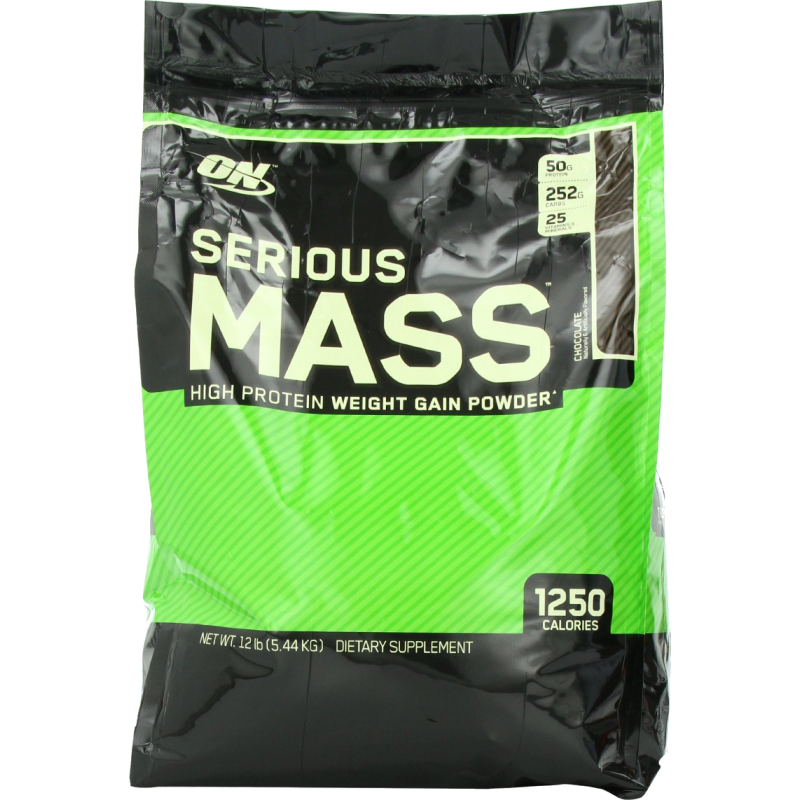 Serious Mass is just what it sounds like, a mass building supplement that provides your body with all of the tools required to pack on the pounds and develop the volume of size you are after! Mass gainers are not intended to be a replacement for a solid diet…they are however a great tool in augmenting a mass gaining diet in a cost effective and time efficient manner by consuming extra mass shakes throughout the day.  Serious mass when combined with milk, juice and fruit provide a huge surge in protein, fat and carbohydrates your body needs to pack on weight.
Product content
Serious mass uses a unique protein blend of Whey Protein Concentrate, Calcium Caseinate, Egg Albumin, and Sweet Dairy Whey as its high carb, protein and fat base. It also contains Maltodextrin for carbohydrates.
Mixability and texture
Serious Mass is often mixed in water, milk or juice depending on how many extra calories you would like in your shake as well as the taste you would like to attain. Serious Mass mixes very well with all three of these liquid forms, and it feels like you are drinking a full meal when consuming this shake. Using a shaker or a blender will work much better than a spoon which can cause clumping due to the high number of dairy and carbyhdrate ingredients within Serious Mass. The consistency is very smooth and frothy, providing a satisfying meal on the go between meals.
Taste
Serious Mass is well known for its delicious qualities. It has been said that it does not taste like a health food product but rather a real treat! Serious Mass is a best selling product and is loved by many repeat customers. It makes the bulking phase of your dieting truly enjoyable as it is a seriously delicious product!
Overall Review
Serious Mass is a high quality well known weight gaining product. It has a complex combination of slow digesting proteins, carbohydrates and fats packaged in a delicious product ready for easy consumption. Serious Mass will have you gaining weight very easily as an increase in calories beyond maintenance on a consistent basis will increase the metabolic wheels of mass gaining and retention.
Pro Complex Gainer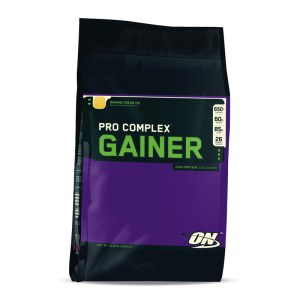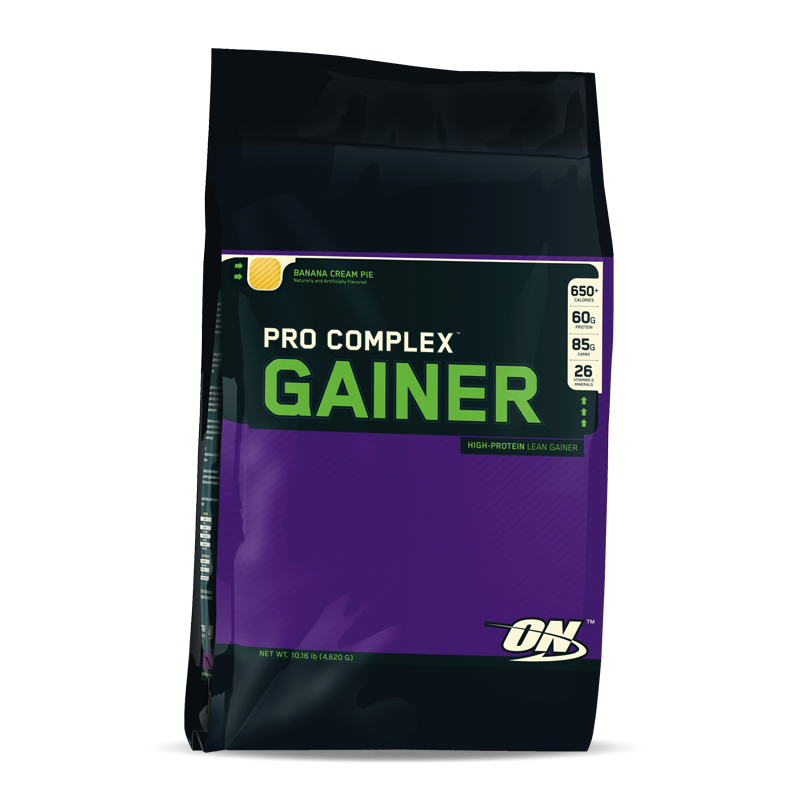 Pro Complex Gainer is another Mass Gainer product by Optimum Nutrition. In the past Serious Mass was the major seller however Mass Gaining products have evolved over time and Pro Complex Gainer provides a higher end product at a higher price point.
What's inside?
Pro Complex Gainer contains the well researched protein to carbohydrate ration (1.5 to 1). Pro Complex Gainer contains 85g of carbs to every 60 g of protein in each and every serving making it a well balanced product. The body can only digest a maximum of 50g of protein at a time so it is advised that you take partial servings over a period of time between meals. Every serving also contains 650 calories which is massive and can again be split into smaller servings. THere are 8g of fat per shake and Cholesterol is very low at only 60 mg per serving. Furthermore there are only 5 g of sugar in every serving which is extremely low. Pro Complex Gainer contains Whey Protein Isolate and concentrate, Calcium Caseinate and Egg Albumen similar to Serious Mass. If you are interested in a more refined protein you will not find it here, however we are looking to gain mass and not tweak a physique on this product!!
Effectiveness
Pro Complex Gainer will give you weight gaining results fast, especially if you respond well to an increase of calories. At 650 calories per shake you really can't ask for anything more in a weight gainer. Also, with the carbohydrate to protein ration being optimized you can be sure that nothing will be wasted. Monitor your fat accumulation and moderate this product based on how much fat you are willing ot accumulate during a bulking phase. It is recommended that you split up servings and try not to gain more than 1-2 lbs per week.
Taste, mixability and consistency
Pro Complex Gainer is just as delicious as its cousin Serious Mass. Due to the high number of calories this shake can replace a meal and satisfies to a high degree. The mass gainer can be mixed with water, juice or milk depending on preference and it is recommended to use a shaker bottle or blender instead of stirring to avoid any clumping. This product provides a frothy creamy texture that is bound to satisfy.
What Is In Serious Mass And Pro Complex ?
Optimum Nutrition Serious Mass
OPTIMUM NUTRITION PRO COMPLEX
Calories
1250
270
Calories From Fat
35
10
Total Fat
4g 6%
1g 2%
Saturated Fat
2.5g 13%
0.5g 3%
Cholesterol
80mg 27%
30mg 10%
Trans Fat
0g
Total Carbohydrate
254g 85%
6g 2%
Sodium
150mg 6%
Dietary Fiber
0g 0%
Sugars
21g
1g
Protein
50g 100%
60g 120%
Vitamin A
5000IU 100%
0%
Vitamin C
60mg 100%
C 0%
Calcium
630mg 63%
25%
Iron
5mg 28%
0%
Vitamin D
200IU 50%
Vitamin E
30IU 100%
Thiamin
4.8mg 320%
Riboflavin
4mg 235%
Niacin
50mg 250%
Vitamin B6
5mg 250%
Folic Acid
400mcg 100%
Vitamin B12
10mcg 167%
Biotin
300mcg 100%
Pantothenic Acid
25mg 250%
Phosphorus
460mg 46%
Iodine
150mcg 100%
Magnesium
140mg 35%
Zinc
15mg 100%
Selenium
70mcg 100%
Copper
1mg 50%
Manganese
2mg 100%
Chromium
120mcg 100%
Molybdenum
75mcg 100%
Potassium 940mg 27%
940mg 27%
Creatine Monohydrate
1g
L-Glutamine
500mg
Glutamine Peptides
500mg
Choline (As Choline Bitartrate)
250mg
Inositol
250mg
PABA (Para-Aminobenzoic Acid)
5mg
Other Ingredients

Maltodextrin
Protein Blend (Whey Protein Concentrate
Calcium Caseinate
Egg Albumin, Sweet Dairy Whey)
Natural And Artificial Flavors
Vitamin And Mineral Blend (DiPotassium Phosphate
Magnesium Aspartate
DiCalcium Phosphate
Calcium Citrate
Ascorbic Acid
Niacinamide
Zinc Citrate
Beta Carotene
D-Calcium Pantothenate
D-Alpha Tocopheryl Succinate
Selenomethionine
Copper Gluconate
Ferrous Fumarate
Manganese Amino Acid Chelate
Thiamin Mononitrate
Pyridoxine Hydrochloride
Riboflavin, Chromium Polynicotinate
Folic Acid
Biotin
Molybdenum Amino Acid Chelate
Cholecalciferol
Potassium Iodide
Medium Chain Triglycerides
Lecithin
Malic Acid
Acesulfame Potassium
Sucralose

Protein Blend (Whey Protein Isolate, Hydrolyzed Whey Protein Isolate, Egg Protein, Hydrolyzed Egg Protein, Leucine Peptides [L-Leucine, Hydrolyzed Whey Protein Isolates][as PepForm®])
Natural And Artificial Flavors
Lecithin
Micronized L-Leucine
Micronized L-Glutamine
Micronized L-Isoleucine
Micronized L-Valine
Enzyme Blend (Beet Root Fiber, Amylase, Protease, Cellulase, Lactase, Lipase)
Sucralose
Acesulfame Potassium.
Product Comparison Summary
Pro Complex Gainer is a fantastic product just like its cousin Serious Mass. It provides a slightly better protein to carbohydrate ratio which allows for more effective supplementation at a higher price. Both products have a moderate quality protein which is perfect for the purposes of weight gaining as they are slow digesting and provide a great amount of calories as they come direct from whole dairy and egg sources. Overall both products will provide the mass gaining results you are after and it is really a choice on price. Pro Complex Gainer is more cutting edge than Serious Mass however Serious Mass remains to be a best seller due to its great taste, effectiveness and great price. When using a mass gainer always monitor your weight gain so that you do not accumulate more fat than desired.