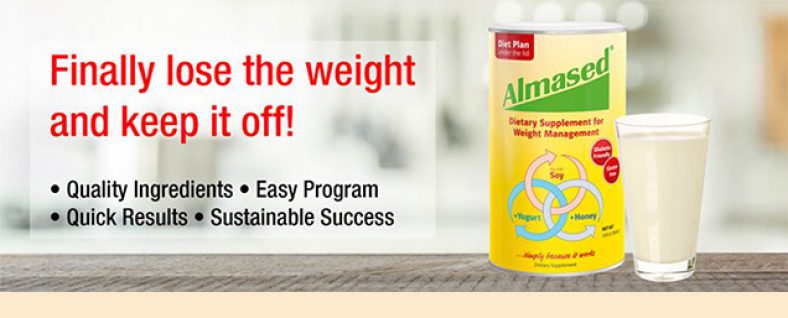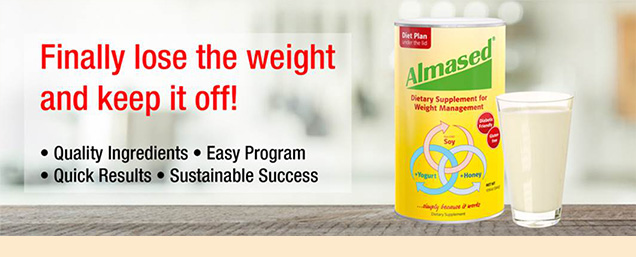 Will the Almased Diet Plan Help You Lose Weight and Get Healthy?
 If you follow what the popular media talks about when it comes to losing weight and getting in shape you will find your journey longer than it needs to be.
Products that claim to help you lose weight are a dime a dozen. Often those products DO WORK for someone who is already in shape. But if you have a lot of excess body fat than the simpler you keep the process the better.
When you want to lose bodyfat in a steady, efficient, and most importantly healthy manner it's best to keep things simple. You need to decrease calories while still getting plenty of necessary nutrients.
These days it's become popular to "fast." When most people fast they don't eat anything for days. This isn't healthy and you can "fast" while still getting the nutrients your body needs to shed off body fat quickly.
When you diet, you NEED to get nutrients into your body to help lose fat and feel good.
What is the Almased Plan?
The Almased Weight Loss supplement is a meal replacement powder that works for those of you who want to lose weight, manage your weight, and a general healthy well-being.
Then there is the plan itself that incorporates the Almased meal replacement into your lifestyle.
Together the Almased plan and powder will allow you to lose weight.
Almased is made of three main ingredients:
High-quality Soy Protein Isolate (non-gmo)
Yogurt
Enzyme-rich honey
These are the three main ingredients in Almased. They are fermented together to get the synergistic effect Almased diet plan provides.
In addition there are some other ingredients such as B Vitamins, Vitamin A, Vitamin C, and Vitamin E; all crucial nutrients the body needs.
What's great about the ingredients in the Almased diet is that the formula is all-natural with no added fillers, flavors, sugars, or preservatives. No caffeine either! Also, it's gluten-free, diabetic-friendly, and vegetarian friendly too.
The protein profile looks great too. There are numerous essential amino acids such as L-Tyrosine and L-Leucine (to name a few). The high-quality protein helps keep you full for longer, and keeps your muscle as you lose weight. Remember, the more muscle you have the faster you will lose weight.
Does the Almased Plan really work?
 Yes, the Almased diet plan does work for fat loss and maintaining a healthy physique. In addition to our own testing of Almased, there are numerous testimonials on the Almased website itself and Amazon for a more neutral review option.
How Does Almased Work?
The idea behind using the Almased formula and diet is to keep your metabolism going and keep energy levels up while in a caloric deficient. While on a typical diet most people will feel sluggish and low-energy.
Almased helps REDUCE these side-effects to dieting and keep you not only energized, but motivated to continue your diet.
The high-protein in each serving (27g in each serving) helps keep you full longer. This is extra important while dieting to preserve your muscles and prevent you from cheating on your diet.
Additionally, the Almased formula has a low glycemic profile that will help maintain a healthy blood sugar level.
How Do You Take Almased
Using Almased is very simple.
Think of Almased diet plan as a MEAL.
It's used in the same way as protein powder or any other shake. You add the Almased powder to water or any other healthy liquid of your choice and either shake it, stir it, or for best results blend the powder.
On the Almased website, they have a free and effective diet plan that is simple to follow called the "Almased Figure Plan." And remember to ALWAYS drink at least 64 oz. of water every day while taking Almased.
Below you can download the figure plan, smoothie sheet, Almased food list, Almased wellness tea and almased summer smoothie recipes.
How Many Meals are in Each Can?
 In each container there is about 10 servings. Each serving is one "meal." Each serving has only 180 calories, which is pretty amazing for all the nutrients you're getting.
Can You Mix Almased with Other Products or Food?
 Yes, you can definitely mix Almased with other supplements and food.
On the Almased website they have a whole list of recipes you can make Almased with and foods you can mix with during a diet.
While dieting, some good things to mix Almased with are unsweetened almond milk, unsweetened coconut milk, soy milk, stevia, cinnamon and other spices, and even iced coffee.
If you aren't doing a hardcore fast, then making smoothies with fruit and vegetables are also a great way to get in more nutrients and have a tasty meal replacement or between meal smoothie.
Is Almased Gluten-Free?
As mentioned above, Almased is gluten-free. So if you follow a gluten-free diet by choice or by necessity (those with Celiac's Disease for example) you will be perfectly fine using Almased. Just make sure not to mix it with anything that isn't gluten-free!
Use Almased to Shed Body Fat and Keep Off Weight
If you're looking for an effective and healthy meal replacement, Almased is a one of the top meal replacement supplements.
Our take is that Almased can be a highly effective and useful weight loss supplement or meal replacement. It's full of vital nutrients your body craves especially during dieting. It's a filling meal replacement. It also comes from a reliable company that supplies a lot of free information for those who try Almased.
Almased is perfect if you:
Want to lose weight quickly and keep the weight off
Want to supplement your diet with an effective and filling meal replacement
Want to try out fasting as a diet choice or lifestyle and aren't 100% ready to not eat anything for days
Have decided to take action and shed fat while staying healthy
Most fat loss supplements are full of stimulants or are a waste of time and money because of their ineffective ingredients with outrageous claims.
People spin their wheels for months or years trying to lose weight and keep that weight off.
Use Almased in combination with fasting to shed body fat and maintain your weight loss for the rest of your life.