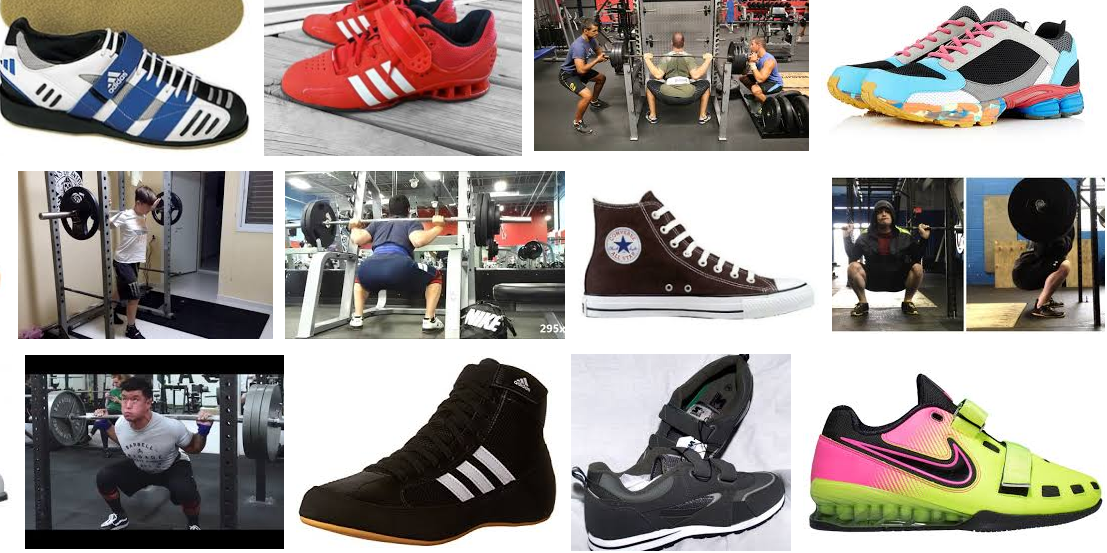 What Makes a Shoe a Squat or Deadlift Shoe?
Committing to yourself to getting in shape, particularly so at the gym, is a major commitment.  Of course, the results you get in return for that commitment are more than worth it.
Likewise, the kit and equipment that we spend our hard-earned cash on is also a commitment.  If you want to get the best results, you can't afford to scrimp.  However, there is of course always being savvy and getting the best return possible.
As part of your gym regime, you're no doubt doing squats (if you're not you should be) and more than likely deadlifting if you've really advanced your game.  Getting good footwear for your squats or deadlifting is a definite.  For safety (that's a lot of hardware you're moving around) and also for performance (you want every second of commitment to count.)
Time to go a little bit Sherlock Holmes and investigate what makes a good squat or deadlift shoe.  So, we're going to look at some headline brands and one of their makes, four men's, two women's.
All products looked at can be found, as a starting point, on Amazon.  A few more key-taps and mouse-clicks will find you endlessly more purchase options.
So, let's go…
Adidas:  Men's Powerlift 3.1 Cross-Trainer Shoe

Guessing your gym must be on an undiscovered desert island if you've never heard of "The Three Stripes", Adidas are a stand-out performer across the sports and performance board, let alone in the gym.
These are cost effective "go to" shoes if you really didn't know where to start.  With a snug, comfortable and flexible fit for your actual size (never under-size, as cramped toes will sure-fire throw you off your set and eventually sending your shoes off to the trash can), they are stylish, come in a wide range of colors, and offer a good, solid heel.
Users also generally report immediate performance benefit in both squats and deadlifts, working from a solid base for their feet.
Your upside is:
They're Adidas.  'Nuff said.
Possible downside:
A handful of reviewers have stated that the shoe is quite narrow, so if you have a wider foot, you may struggle a little.
Inov-8:  Men's Fastlift 325 Cross-Trainer Shoe


British based, if that's your thing, Inov-8 offer you a slightly more cost-effective shoe than other reviews in this article.
Inov-8 make a claim to be the lightest weightlifting shoe on the market with no compromise as to durability.  They also offer "meta-tech" flexibility as to the fabric, to allow for additional wearer comfort.  Offering an elevated and firm heel, with a removable footbed, the Velcro laces and closure are both secure and comfortable – always a good thing when it comes to squats and deadlifting.  You can be pretty sure you'll get what you need from these in the gym.
Your upside is:
Good quality shoes at a very cost-effective price.
Possible downside:
Limited number of buyers report it almost being like a regular gym shoe. This is after all down to personal choice and experience.  Keep in mind this was statistically a pretty infrequent gripe – but still there nevertheless.
Reebok:  Men's Crossfit Lifter 2.0 Training Shoe


Coming in for a few dollars extra, the Crossfit Lifter 2.0 is a popular choice for many.  Sporting a cool look, users report them to be snug and narrow but not at the risk of compromising comfort and thus cutting short sessions in the gym.
This shoe has a solid / lifted heel to help you handle more weight and also to push your knees out when performing your squats, enabling your heel to stay continually closer to the ground.
Equipped with a nice breathable mesh, these are weightlifting shoes that can hold their own when compared to rivals.
Your upside is:
A good solid wide sole that allows for both application of effort while simultaneously supporting the arch of the foot.
Possible downside:
One or two question marks as to the longevity of the lining of the shoe and also the weight.  That's how they saw it, so let's report it…
Nordic:  Powerlifting Shoes for Heavy Weightlifting


First up, playing on the Nordic namesake, these are something of a warrior weightlifting shoe.  By that I mean that these are designed to take a pounding and then still hold up.  Hey, Nordic even throw in a one-year warranty to back that up.
So, a solid opening shot for this Viking-friendly shoe.  Plenty of user activity that report that even after over a year of use, the shoes still look like they've just come out of the box.  Not too many others can copy that!
You get to benefit from a sturdy platform and solid heel, not too tall, to allow for effective, deep thrust squats.  That's because it is firm and provides great support and balance for the user.  Consequently you get good grounding and rest back on your heels for your deadlifts or squats.
Your upside is:
Durability.  These shoes could spend a day or two inside a volcano of your choice and still get back you looking box-fresh.
Possible downside:
The Velcro straps have been reported to fray, at least according to some.
Adidas:  Performance Women's Powerlift 3.1 Weightlifting Trainer Shoe


Back with our Adidas friends again, this time for the ladies in the room, the 3.1 is seemingly a great buy.
Offering a range of benefits including, but not limited to, a lightweight synthetic upper coupled with a flexible toe design to keep things comfortable during your workout.
A wide range of buyers tell us that the shoe is sturdy while at the same time offering a good fit – neither too big to compromise performance or too tight to again, compromise your performance.  Within just a short time out of the box, shoes are reported to be fitting naturally to the foot.  Meaning better grunts for your dollar.
Your upside is:
High-quality shoe that allows the user to push on more than they thought.  Good value for money too.
Possible downside:
Possibly over-compensates by being too big by size – even for the need for a weightlifter's shoe to have some lea-way when doing some serious lifting or squats.
Inov-8:  Women's Fastlift 325 Fitness Shoe


First up, you may be spending a little more, but, given the weightlifting community's take on these, you won't be going far wrong by doing so.
A frequent go-to of many in the female lifting community, these sport an external heel cage and light-weight construction, this shoe has to catch the buyer's eye straight off the bat.  They also come with a supportive and breathable overlay.  Buyers report, consistently, that they are comfortable, stable and well manufactured.  So, there's always that to keep in mind when weighing up your purchase options.
Similarly, comfort is rarely if ever reported as being a problem, and the heel lift is good enough to provide good power through balance and help you out on those leg days.  Comfort, strength and quality – that's quite the trio for a weightlifting shoe.
Your upside is:
Light on the feet, light on the wallet too.
Possible downside:
One or two focus on size issues on arrival of their shoes  – that the shoe was smaller than they expected.