There's an old strength training adage: "To beat The Man, you have to be The Man" – in other words, you need to step up and tackle the challenges if you want the rewards. If you're going for size, you want to get the most, and you want to max out, fast. Hitting up to 4k in calories can be a difficult task. But if you don't put the calories in, you won't get the muscle out. And when you take in those calories, you want to be sure you're maximizing your gain. You don't want empty calories; you want your body enriched so that you can get strong and you can get huge.
When you work out, you energize your metabolism. That's a good thing – but it can leave you starving. Your primitive man instincts are still inside, and they're going to push you to satisfy that hunger, fast. It can override good sense and lead you to junk food or other things that aren't going to be optimal for your workout or your shape. So if you want to add to your caloric and remove the animal brain's cravings from the equation, you're going to want to add calories.
Mass gaining supplements are effectively the secret weapon of size. But there are a lot to choose from; it feels like everyone's got a supplement these days. The two leaders are Dymatize Super Mass Gainer and Serious Mass. Both have their ardent adherents. Both are major players. The question is: What will make you the biggest, the fastest, and the best?
Dymatize Super Mass Gainer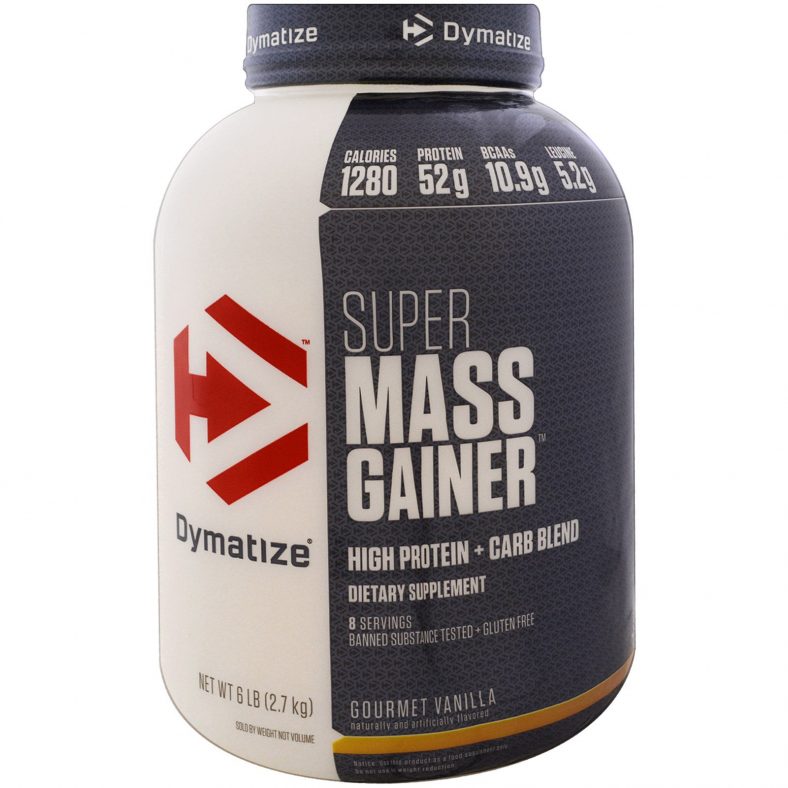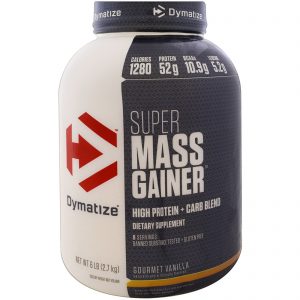 6 Lbs.
Serving Size: 2 1/2 Cups (336 g)
Servings Per Container: About 8
Rich Chocolate
Amount Per Serving
% Daily Value

Calories
1,280
Calories From Fat
90
Total Fat
10 g 15%*
Saturated Fat
3 g 15%*
Cholesterol
135 mg 45%
Total Carbohydrate
242 g 81%*
Dietary Fiber
4 g 16%*
Sugars
22 g **
Protein
52 g 104%*
Vitamin A
3,200 IU 64%
Vitamin C
52 mg 87%
Vitamin E
21 IU 70%
Thiamin
.6 mg 40%
Riboflavin
.2 mg 12%
Niacin
15 mg 75%
Vitamin B6
1.5 mg 75%
Folate
340 mcg 85%
Vitamin B12
1.8 mcg 30%
Pantothenic Acid
8 mg 80%
Calcium
1,100 mg 110%
Phosphorus
870 mg 87%
Iodine
150 mcg 100%
Magnesium
130 mg 33%
Sodium
580 mg 24%
Potassium
1,100 mg 31%
Creatine Monohydrate
1g **
This supplement is a little heavier on calories. There's almost 1300 calories per serving, which is three meals. So if the rest of your diet is in the range of 2000-2500, and you add Super Mass Gainer, you're going to be ahead of the game from step one. That's a critical point.
But you need to lift seriously along with it – you need to give those calories a place to go, and you want abs, not flab. You also want to make sure that you're taking advantage of the protein blend. That blend is Whey Protein Hydrolysate, Whey Protein Concentrate, Milk Protein Isolate, Whey Protein Isolate, and Micellar Casein. Together, these proteins interact to increase delivery of amino acid to muscle tissue, which should translate into more muscle, faster recovery times, and general fortitude. In short, the blend is made to deliver both better conversion to muscle, and more ability to recover quicker so you can work out those muscle groups again.
It's a highly intense protein mixture.
Negatives of Dymatize Super Mass Gainer
As with ON Serious Mass, there's that potential challenge with the vitamin (and mineral) content. Again, be careful, check in on your regime with your dietary expert, and always, always be careful what you put in your body, including multis.
Also, you're definitely going to want to use this after your workout, not before. There are almost 250 grams of carbs, 23 grams of sugar, and that will slow you down; you want to have that available to use for building muscle.
In both cases, you're going to get a serious caloric increase through just one beverage, as much as you might get through multiple meals. But if your training isn't intense enough, that extra's just going to go to waste, and end up slowing you down.
NOTE FOR BOTH PRODUCTS:
Super Mass Gainer and Serious Mass contain 1,050 milligrams and 1,560 milligrams of potassium, respectively. Multivitamin-mineral supplements don't contain more than 99 milligrams of potassium per serving, because quantities of potassium over that amount become toxic, reports the Linus Pauling Institute at Oregon State University. Getting more than 99 milligrams through supplements may cause nausea, diarrhea, and vomiting. If blood levels of potassium get too high, you may experience tingling in the hands and feet, muscular weakness or a potentially serious abnormal heart rhythm.
Conclusion:
Both products are excellent. In each case, you're getting a high-calorie, high-energy, protein-rich environment to use as raw materials to grow your body. That can be critical to your development as a bodybuilder. Every little piece is one more step towards your ultimate goals of being the best. And that's always going to be an intensely personal journey, fueled by your own internal fire. The main choice is ultimately up to you – based on your diet, your dietary needs, and what works best for your fitness and your strength training.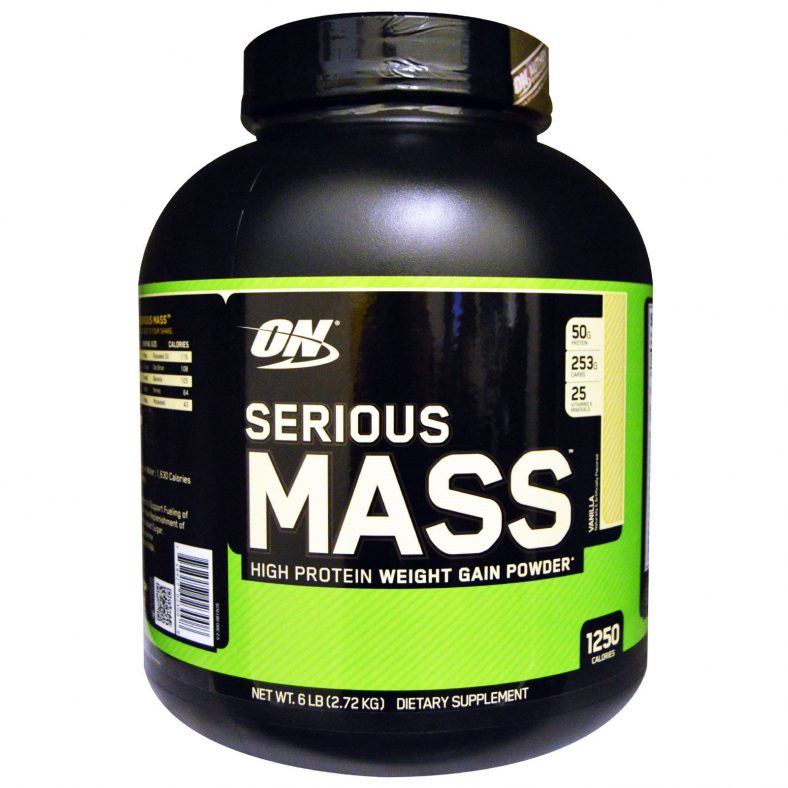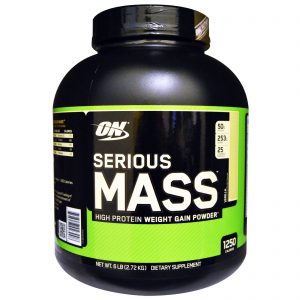 6 Lbs.
Serving Size2 HeapingScoops(334g)
Servings Per Container8
Banana
Amount Per Serving In Water
% Daily Value

Calories
1250
Calories From Fat
35
Total Fat
4g 6%*
Saturated Fat
2.5g 13%*
Cholesterol
80mg 27%
Total Carbohydrate
254g 85%*
Sugars
21g †
Protein
50g 100%*
Vitamin A
5000IU 100%
Vitamin C
60mg 100%
Vitamin D
200IU 50%
Vitamin E
30IU 100%
Thiamin
4.8mg 320%
Riboflavin
4mg 235%
Niacin
50mg 250%
Vitamin B6
5mg 250%
Folic Acid
400mcg 100%
Vitamin B12
10mcg 167%
Biotin
300mcg 100%
Pantothenic Acid
25mg 250%
Calcium
630mg 63%
Iron
5mg 28%
Phosphorus
460mg 46%
Iodine
150mcg 100%
Magnesium
140mg 35%
Zinc
15mg 100%
Selenium
70mcg 100%
Copper
1mg 50%
Manganese
2mg 100%
Chromium
120mcg 100%
Molybdenum
75mcg 100%
Sodium
430mg 18%
Potassium
940mg 27%
Creatine Monohydrate
1g †
L-Glutamine
500mg †
Glutamine Peptides
500mg †
Choline (As Choline Bitartrate)
250mg †
Inositol
250mg †
PABA (Para-Aminobenzoic Acid)
5mg †
At 1,250 calories per serving, you're going to get the heavy hitting you need to make your daily caloric. It won't be The Rock's 5,000 calories a day in and of itself, but it's a powerful start. 50 grams of that is going to be their protein blend, Calcium Caseinate, Egg Albumin (the key power behind egg whites), Sweet Dairy Whey, and Whey Protein Concentrate.
In addition, that blend contains:
Para-Aminobenzoic Acid
Creatine Monohydrate
L-Glutamine
Glutamine Peptides
Inositol
Choline throws in the muscle recovery you need to make a comeback and fit more reps into a given muscle group per week. Creatine's been known for decades for its power in supporting muscle gain. Over 61% of skeletal muscle is Glutamine – that should tell you something. When it comes to core strength, this is a serious mix.
It's got the calories, it's got the protein, and it's got an army of ripped fans who can attest to its effectiveness. This is a very serious product.
Negatives of Serious Mass:
The carbs here could interfere with your workout's effectiveness. And while vitamins are always good, you don't want to go too far over your RDA except as specifically called for in your training regimen. So the vitamin-enrichment is a positive, but could go minus on you if you overdo it.
There could be more amino acid in the mix. But it's a very powerful mix.
Be aware that the texture is fairly thick; that's not uncommon in a gainer, but it can still challenge your palate.