Drum roll number 1… BSN True Mass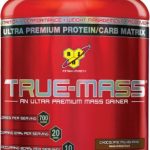 5.82 Lbs.
Serving Size3Rounded Scoops(165g)
Servings Per ContainerAbout 16
Chocolate Milkshake
Amount Per Serving
Calories
700
Calories From Fat
150
Total Fat
17g 26%
Saturated Fat
4g 20%
Trans Fat
0g
Cholesterol
130mg 43%
Sodium
300mg 13%
Potassium
900mg 26%
Total Carbohydrates
90g 30%
Dietary Fiber
6g 24%
Sugars
14g
Protein
46g 92%
Time for another protein powder head-to-head.
And why ever not, in a market replete with what feels like an almost unlimited number of products to choose from, this one's something of a family feud. That's because we are going to pit True-Mass up against True-Mass 1200, both manufactured by BSN – Bio-Engineered Supplements and Nutrients, Inc.
Like all family rivalries, it's got the potential to get tasty and at the end of it, someone may end up being off the Christmas card list this year…
First up for consideration:
True-Mass
With a consistent hard-core of followers that swear by it, True-Mass is a lean-mass, weight gain protein powder containing six sources of protein. None of which are soy based – good news if you are one of those that has a rough time with soy.
As well as lean weight / muscle gain, True-Mass claims to offer you faster recovery times after your work-out coupled with enhanced energy levels.
You get to choose from four flavors – strawberry milkshake, vanilla ice cream, chocolate milkshake and cookies & cream. You can find True-Mass on a multitude of online retail sites, but to choose from one of those, you can presently find the standard 5.82 pound tub for USD $43.70 at BodyBuilding.com:

September 26, 2023 4:29 am

Amazon.com
Last update was on: September 26, 2023 4:29 am
A recommended serving of True-Mass consists of three scoops, or 165 grams if that works better for you. And yes, you'll certainly get a decent return on the good stuff in amongst that, such as…
First up, you'll get 46 grams of pure protein in that – nearly 28% of a serving. That same serving also offers you 700 calories, 90 grams of carbohydrates and a reasonable 17 grams of fat.
Feed-back on True-Mass is for the most-part consistently positive. Swift but not overly-dramatic weight / lean mass gain has been reported by users – always a promising feature to report.
True-Mass advocates also frequently note how easy it is to mix with water, juice, milk or whatever else takes your fancy. There's no clumping, with the powder dissolving easily. The curse of some protein powders, chalkiness in taste and texture is rarely reported. Likewise, adverse issues such as a metallic after-taste, bloating or digestion problems are infrequently reported among consumers.
All in all, you have a reliable, tried and tested protein powder before you. At a decent price in a very competitive market, chances are this could be weight / lean mass gain product for you and make a great addition to your workout regime.
And now moving on to the other half of this BSN family showdown:
Drum roll number 1… BSN True Mass 1200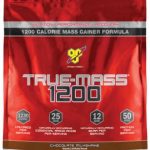 5.82 Lbs.
Serving Size3Rounded Scoops(165g)
Servings Per ContainerAbout 16
Chocolate Milkshake
Amount Per Serving
% DV†
Calories
1230
Calories From Fat
140
Total Fat
16g 25%
Saturated Fat
5g 25%
Trans Fat
0g
Cholesterol
150mg 50%
Sodium
530mg 22%
Total Carbohydrate
222g 74%
Dietary Fiber
16g 64%
Sugars
16g
Protein
50g 100%
True-Mass 1200
The name may be the same, plus the addition of a number, but True-Mass 1200 should not be mistaken with its True-Mass brother.
Advertised as a "premium super mass gainer" True-Mass 1200 is advertised as being designed for those looking to both impact their muscle / lean mass to fat ratios as well as benefit from a calorie boost.
Its optimal use is intended for those who have hit the gym and are in post-workout mode, between meals as a way to act to keep energy levels going and appetite in check and also before retiring for the night.
True-Mass 1200 comes with the added goodness of ground whole oats and for extra fun, a 50 gram component of BSN's signature-specific protein supplement. That's protein-a-plenty to you and I.
The flavour options are the same as with True-Mass: strawberry milkshake, vanilla ice cream, chocolate milkshake and cookies & cream. True-Mass 1200 is also to be found on a multitude of online retail sites, but sticking with BodyBuilding.com, you can find it at USD $48.61 for a 10.38 pound bag.

September 26, 2023 4:29 am

Amazon.com
Last update was on: September 26, 2023 4:29 am
A serving of True-Mass 1200 is deemed by BSN to be a 157 gram scoop, that provides for 25 grams of protein – that's a gnat's wing-width under 16% protein, so lower by nearly half per serving compared to the True-Mass per serving. Your 157 gram scoop also gives you 615 calories, 11 grams of carbohydrates and 8 grams of fat. A reasonable comparison to both True-Mass and also the rest of the competitor field.
Reviewers of True-Mass 1200 report broadly the same as True Mass when it comes to things like an absence of a metallic or chalky after-taste or how well your digestion system handles it. For the most part, reviews of how it dissolves well are good, although there are a few reports of it struggling a little bit to fully break down in milk.
Conclusion:
This really is a coin-toss as both True-Mass and True-Mass 1200 are solid products to invest in if you are serious about your your weight / lean mass gain.
But then, of course, price as well as protein and nutrient ratios / return inevitably come into this. You get more for your money with True-Mass 1200, but your protein hit per serving is higher with True-Mass.
So, if it's vital statistics that you're looking at so as to arrive at a decision, the difference between the two in protein per serving, as well as fats and carbohydrates, may be the key to your making that considered choice.
Also, and with a nod to the inevitability of it all, especially so in this kind of an intimate family square-off, personal taste is going to come into play and color your decision.
Chances are if you've tried both, then gone for the one, that's the one that you are going to stick with regardless of how many reviews you read up on. Newbies to the protein powder world, budget and protein specific requirements aside, may simply have to bite the bullet and try the two to make their own call.
Either way, happy hunting when it comes to giving your gym regime that boost you need.