Naturally, you're serious about your muscle bulk, weight loss and calorific intake regimes as well as the frequency and duration of your gym visits. Your author is no fortune reader, but f you're reading this article, those are fair bets to make.
You can choose to hit the gym without some help and sure, you may get some results. Or you may not, become disheartened and ultimately quit. In contrast, for those truly in the know though, supplementing your workout strategy with something like Serious Mass or Mass-Tech (lean) weight gain formulas.
And it is those two, Serious Mass and Mass-Tech, that we are going to now look at in a little more detail so as to help you make a more considered choice when browsing the market for some supplementary help.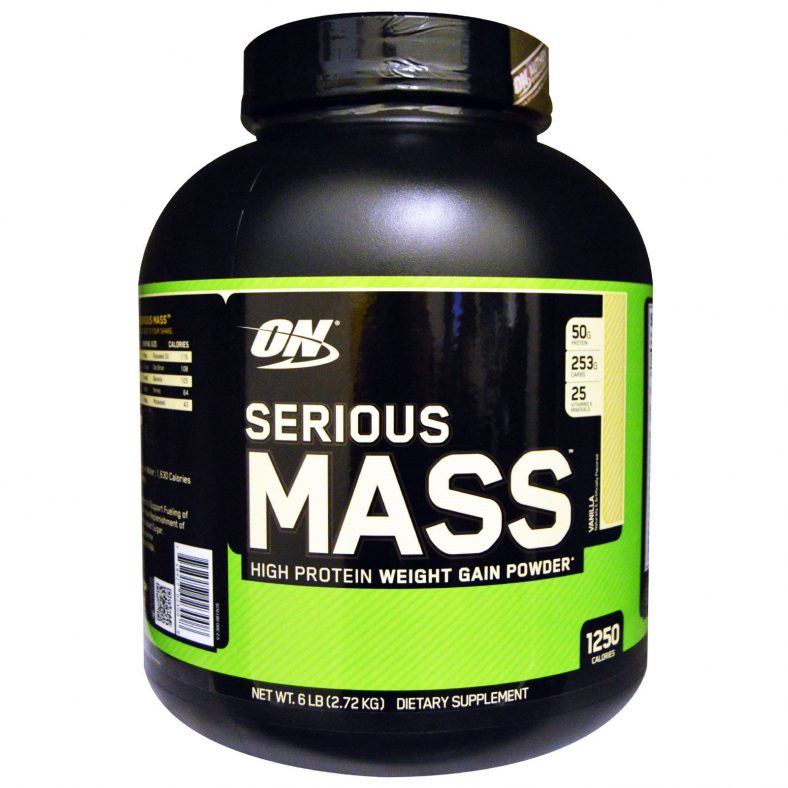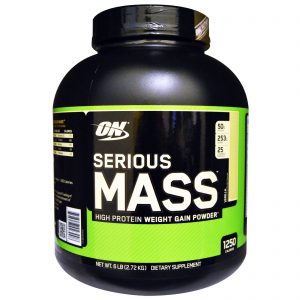 6 Lbs.
Serving Size2 HeapingScoops(334g)
Servings Per Container8
Banana
Amount Per Serving In Water
% Daily Value

Calories
1250
Calories From Fat
35
Total Fat
4g 6%*
Saturated Fat
2.5g 13%*
Cholesterol
80mg 27%
Total Carbohydrate
254g 85%*
Sugars
21g †
Protein
50g 100%*
Vitamin A
5000IU 100%
Vitamin C
60mg 100%
Vitamin D
200IU 50%
Vitamin E
30IU 100%
Thiamin
4.8mg 320%
Riboflavin
4mg 235%
Niacin
50mg 250%
Vitamin B6
5mg 250%
Folic Acid
400mcg 100%
Vitamin B12
10mcg 167%
Biotin
300mcg 100%
Pantothenic Acid
25mg 250%
Calcium
630mg 63%
Iron
5mg 28%
Phosphorus
460mg 46%
Iodine
150mcg 100%
Magnesium
140mg 35%
Zinc
15mg 100%
Selenium
70mcg 100%
Copper
1mg 50%
Manganese
2mg 100%
Chromium
120mcg 100%
Molybdenum
75mcg 100%
Sodium
430mg 18%
Potassium
940mg 27%
Creatine Monohydrate
1g †
L-Glutamine
500mg †
Glutamine Peptides
500mg †
Choline (As Choline Bitartrate)
250mg †
Inositol
250mg †
PABA (Para-Aminobenzoic Acid)
5mg †
Serious Mass:
Manufactured by Optimum Nutrition, Serious Mass is marketed as an "advanced muscle mass gainer" protein powder, designed to help users build both muscle mass and strength.
Boasting a mixture of fast, medium and slow release proteins, which in turn allows for a better delivery of blood-born amino acids to muscle, soft tissue and bone, Serious Mass comes in a range of five flavors to take your fancy: banana, chocolate, chocolate peanut butter (hey, why not?) strawberry and the everyone's usual go-to, vanilla.
Those flavors are put together with a mixture of both natural and artificial ingredients – just so you know.
Flavor aside, here's the nutritional break-down of what to expect from Serious Mass.
A two scoops (as recommended) serving of Serious Mass, at 334 grams, will give you:
1250 calories
50 grams of protein
252 grams of carbohydrates
5 grams of fat
That's as near as good a 15% protein to two scoops ratio. So not too shabby a deal at all.
In addition, Serious Mass offers you 25 vitamins and minerals to help gain those lean muscle pounds. Has to be worth keeping in mind.
With all that in mind, let's take a peek at market availability and cost.
Serious Mass can be sourced from any number of brick and mortar or online retail outlets. For the purposes of this article, let's stay with BodyBuilder.com though. For a regular six pound jar (allowing for 8 servings in total), you're looking at USD $27.48.
So, you're paying a little less per pound when compared to rivals, but your servings per jar are a little on the light side and you could end up paying more in the longer run.
Many aficionados of Serious Mass will tell you time and again that it is helped them achieve some serious weight / bulk gain results in conjunction with their regular workout programs. Real die-hards go on to claim that it is the only real muscle-building formula that actually works. Clearly they're very smitten…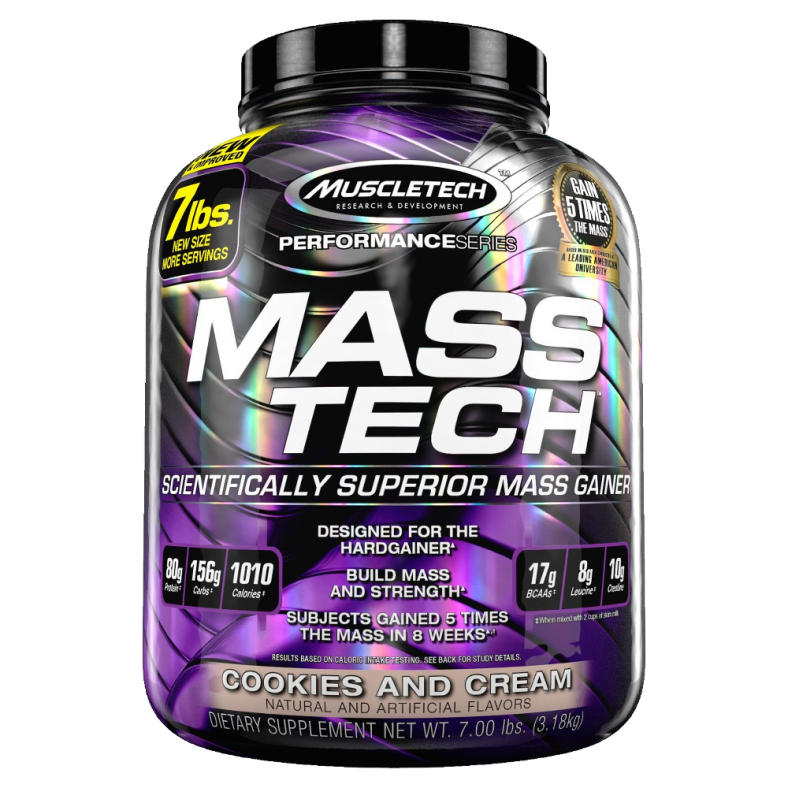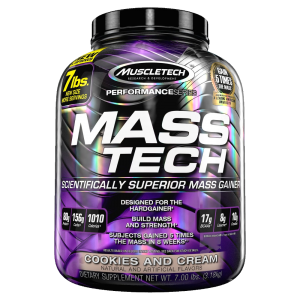 7 Lbs.
Serving Size: 5 Scoops (234g)
Servings Per Container: Approx.14
Birthday Cake
1 Serving with 16oz. Water Amount Per Serving
% Daily Value
Calories
830
Calories From Fat
50
Total Fat
6 g 9%*
Saturated Fat
3 g 15%*
Cholesterol
200 mg 67%
Total Carbohydrates
132 g 44%*
Sugars
13 g †
Protein
63 g 126%*
Calcium
645 mg 65%
Iron
.8 mg 4%
Sodium
440 mg 18%
Mass-Tech® Co-Factors
L-Glutamine (as whey protein, calcium caseinate, egg albumin, L-glutamine)
10.4 g †
Creatine Monohydrate
10 g †
L-Leucine (as whey protein, calcium caseinate, egg albumin, L-leucine)
6.5 g †
L-Isoleucine (as whey protein, calcium caseinate, egg albumin, L-isoleucine)
4.1 g †
L-Valine (as whey protein, calcium caseinate, egg albumin, L-valine)
3.4 g †
Enzyme Digestion Complex
Papain
50 mg †
Amylase
50 mg †
Mass-Tech:
Brought to you by Muscletech, Mass-Tech is marketed by them as being a "scientifically superior mass gainer."
Compared to Serious Mass, your flavour options are a little more limited. You get to choose from chocolate, cookies and cream, vanilla and strawberry. The flavors inside, like Serious Mass, are enhanced with a mixture of natural and artificial flavors. Again, the sort of thing that we all like to know.
A serving in this instance is a generous five scoops, amounting to 255 grams to mix in with your liquid of preference.
Those 255 grams, in comparison to Serious Mass, give a resoundingly higher calorific hit – coming in at an impressive nod inducing 1000 calories.
Protein wise, you get 63 grams from that 225 gram serving – which works out as a pretty impressive 28% protein hit.
For additional benefit, each Mass-Tech serving comes with 10 grams of creatine (a funky supplement that helps to keep your muscle energy going along nicely), 14 grams of amino acids to say a warm welcome to muscle and bone growth and 10 grams of Glutamine – an amino acid variant that complements the whole mix.
The rest of your basic Mass-Tech vital statistics, based on that 225 gram serving, are made up as follows:
Carbohydrates at 168 grams
Fat at 9 grams.
Price wise, and so as to keep things fair, using BodyBuilder.com, you can pick up a seven pound jar of Mass-Tech for USD $44.79. Find the details here:
Mass-Tech loyalists will tell you that this is a stand-out protein muscle / bulk building formula. They love the ease with which Mass-Tech is able to become part of their muscle-build / weight loss regimes. And there are plenty of them out there so they must be buying into something that's pretty darn good.
Conclusion:
Looking at price per pound first up, you have Serious Mass offering six pounds at USD $27.48 – that's USD $4.58 a pound. In contrast, Mass-Tech offers you seven pounds at USD $44.79 – that's $6.39 a pound.
So, if money is a factor for you (and who isn't it a factor to), then you may find yourself leaning to Serious Mass.
However, you may wish to look at this from a protein per serving perspective. Mass-Tech offers you more protein bang for your buck when compared to Serious Mass. Both are good protein hits compared to others, but this split between the two products covered here may be a deciding factor for you if that's what you are looking for in particular.
Ultimately, your own personal circumstances will dictate what the best decision is for you. Even more so when the other factors between these two protein formulas are taken into consideration – taste, how they dissolve, comfort on the stomach and so on.
Either way, you have two great protein formula products here to choose from that are readily available on the market.
Hope the read was good, the shopping is going to be better and the burn in the gym is the best of all.