Two of the better-known whey protein powders out on the market right now, Isoflex by Allmax and Isopure by Nature's Best, have for a good while now been drawing comparisons with one another. Consequently, something of a rivalry has emerged.
While not quite a Real Madrid v FC Barcelona stand off just yet, the metrics of the two do need weighing up against each other. By doing so, we get to have a better idea of how to weigh up your whey and how best to invest your hard-earned cash into your muscle building and / or weight loss regime.
So, let's cast a considered eye over both products and see what we come up with.
Drum roll number 1… Allmax Nutrition Isopure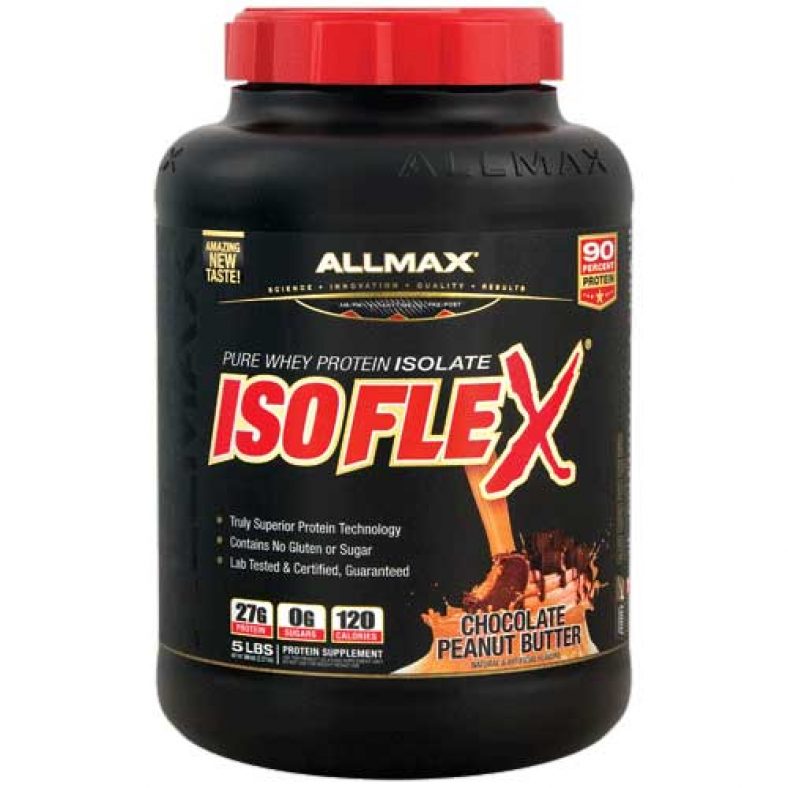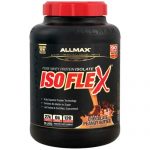 1 Lb.
Serving Size: 1 Scoop (30 g)
Servings Per Container: ~14
Chocolate
Amount Per Serving
% Daily Value
Calories
110
Calories from Fat
0
Total Fat
0 g 0%*
Saturated Fat
0 g 0%*
Trans Fat
0 g ‡
Cholesterol
0 mg 0%
Total Carbohydrate
1 g
Dietary Fiber
0 g 0%*
Sugars
0 g ‡
Protein
27 g 54%*
Calcium
60 mg 6%
Iron
1.4 mg 8%
Sodium
110 mg 5%
Potassium
170 mg 5%
Isoflex is a pure 100% whey protein isolate, not concentrate, providing 90% pure protein, designed to build muscle, help with fat loss and give a boost to energy levels. Isoflex offers that 90% pure protein component as the highest percentage purity of all of the Allmax protein products currently available. It's promoted as being gluten free as well as being low in sugar, fats and carbs while all the time still maintaining a good taste.
Isoflex has a loyal following among its purchasers, who consistently rate it as a high quality product. The 90% pure protein component of Isoflex is indeed a very solid base to work from and hard for rivals to compete with.
Users report it to be easy to mix, dissolving easily, good in smoothie format (if you like it that way) and to lack the chalkiness, thickness or forehead wrinkling aftertaste that some other protein powders can conjure up.
There are also plenty of accounts as to how Isoflex simultaneously keeps a lid on your appetite for longer (up to three hours in a lot of cases) while allowing for a boost in energy levels.
Amino acid content is identified as good quality in among a well-balanced ingredient list, as well as an absence of soy lecithin. So Isoflex is not only suitable for those with gluten intolerance issues but those with soy aversions too – definitely worth knowing if those are issues that are a concern to you.
If you are looking for the added bonus of a wide-range of tastes, Isoflex won't disappoint. From chocolate, to banana to pineapple coconut through to the slightly outrageous sounding birthday cake, there will be a taste that is the one for you.
Isoflex comes in 2lbs or 5 lbs options. For the 2lbs option, the price of Isoflex comes in at $39.95 on Amazon (Prime), so it's a little on the pricier side compared to some, albeit for a consistently reliable product.
There are plenty of other online Isoflex retailers to be found in North America and beyond.
So, there's your first contender in a nut-shell. Take a breath, and then let's swing our sights on to your next candidate.
Drum roll number 2… Nature's Best Isoflex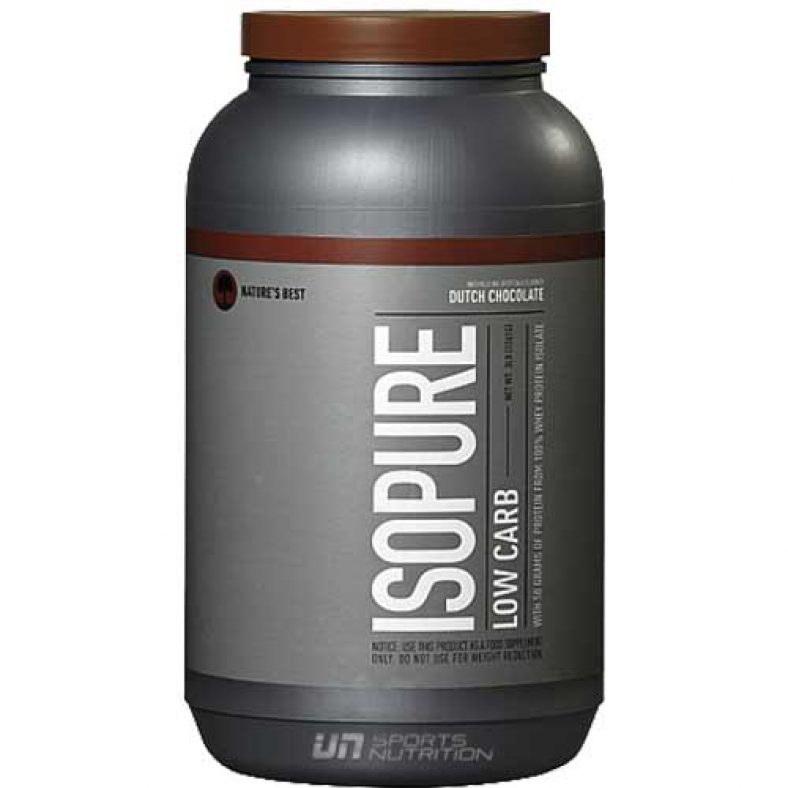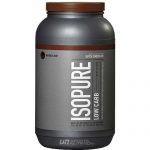 3 Lbs.
Serving Size2Scoopfuls(65g)
Servings Per ContainerAbout 21
Low Carb Dutch Chocolate
Amount Per Serving
% Daily Value*
Calories
220
Calories From Fat
10
Total Fat
1g 1%
Saturated Fat
0.5g 3%
Trans Fat
0g
Cholesterol
5mg 4%
Sodium
320mg 15%
Potassium
750mg 20%
Total Carbohydrate
3g 1%
Dietary Fiber
2g 8%
Sugars
0g
Protein
50g 100%
Vitamin A
50%

Vitamin C
50%

Calcium
60%

Iron
6%

Vitamin E
50%

Vitamin K
50%

Thiamin
50%

Riboflavin
50%

Niacin
50%

Vitamin B6
50%

Folate
50%

Vitamin B12
50%

Biotin
50%

Pantothenic Acid
50%

Phosphorus
50%

Iodine
50%

Magnesium
50%

Zinc
50%

Zinc
50%

Selenium
50%

Copper
50%

Manganese
50%

Chromium
50%

Molybdenum
50%

Chloride
20%

Isopure:
Isopure also comes up with the goods as a 100% whey protein ion-exchange isolate, offering a zero / low carb option, virtually zero fat and no impurities lurking deep within. It also has the added bonus of being gluten and lactose free – so ideal for those who may suffer from an allergy to either.
Like Isoflex, Isopure fans will tell you how good this is all day long.
With 50 grams of protein per two-scoop serving, plus added vitamins and minerals blended into the Isopure mix, you're getting a more than decent hit in those key areas.
Isopure's marketing flags up that it not only helps out with muscle bulk and gym / work-out recovery times, but is also provides benefits in terms of muscle sustainability as we get older. On top of that, Isopure allows for users to stay on top of their weight loss regimes by keeping them feeling fuller for longer.
In addition, Isopure advocates frequently detail how the powder is great to mix and has little to no clumping or after-taste issues. Flavors come in a kaleidoscope of options: creamy vanilla, apple pie, mango peach and low carb Dutch chocolate to name but a few.
Isopure also make a rather unique claim to being "the first family of nutritional fuel." And yes, when fact-checking this, it completely stands up to scrutiny as they have been on the market for over 30 years. Guess they must be doing something right.
3lbs of Isopure Zero / Low Carb currently retails on Amazon Prime at $39.99. You can check Your other options for retail availability.
Isoflex VS Isopure Conclusions:
Like choosing between Pepsi or Coke, or coffee or tea, this is a tough call to make in a purely objective fashion as to which of the two protein powders is actually the better. Personal taste is always going to come into play.
Still, some things to mull over…
On the one hand, Isopure has been around a lot longer. It's clearly doing something right to keep on going for all time. Also, Isopure is the slightly more cost-effective option compared to Isoflex, although the costs difference between the two is not too extreme.
Protein intensity wise per serving, Isoflex shades that particular battle. Also, some critics of Isopure have identified a high sodium content and subsequently a salty taste on consumption. But then in defense of Isopure, fans cheer it on as being a great tasting product with negligible carbs to be concerned about.
We really do have a dead heat when it comes to favour options. The varieties with each are more than enough to keep even the choosiest of users happy.
Ultimately, if you are starting from scratch, you need to try both to be able to make the best decision for you. Taste is, at end of the day, particular to each consumer on a personal and individual basis.
Either powder is a major player. One of them will likely be just right for you.