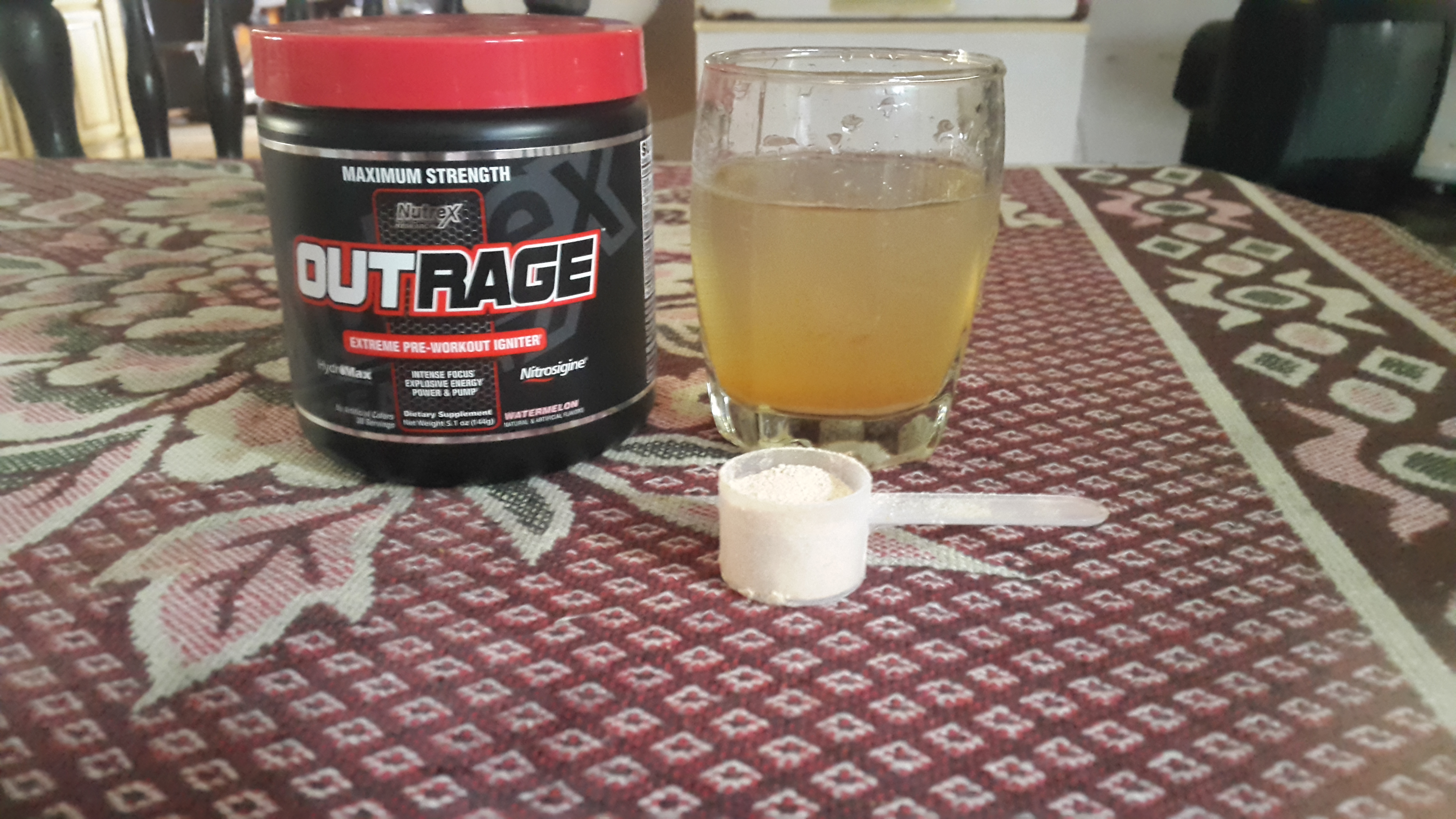 Another product from Nutrex nutrition that I was looking forward to trying – mainly because i loved the outlift energy shots , it gave me just the right amount of energy to complete my workout routine.
outrage and outlift ingredient profile are fully disclosed. With some companies, even a fully disclosed label can leave you with some doubt as to what you're putting in your body. Nutrex isn't one of those companies when it comes to there pre workout outrage and you can be confident that what the label says is exactly what you're consuming.
Outrage ingredient profile is plain and simple and yet still effective, well maybe not the best pre there is on the market but it will not let you down .
See the profile for yourself here.
Serving Size: 6.8g (Approx 1 Scoop)
Servings Per Container:30
Amount Per Serving % DV
Calories 5
Carbohydrates 1 g 1%**
Sugar Alcohol (from HydroMax®) 1 g *
Vitamin C (as Ascrobic Acid) 150 mg 250%
Niacin (as Nicotinic Acid) 30 mg 150%
Vitamin B12 (as Cyanocobalamin) 9 mcg 150%
Potassium (from Nitrosigine®) 37 mg 1%
HydroMax® (std. min. 65% glycerol) 1.5 g *
Hydromax® glycerol, an innovative component that is more stable than glycerol monostearate (which most competitors use), offers exceptional hydration by increasing the concentration of fluids in the blood and tissues. This enhances endurance and stamina during exercise and promotes an incredible pump due to its ability to shuttle water into the muscle cells.
Nitrosigine® Arginine Silicate Inositol 750 mg *
Nitrosigine® boosts nitric oxide levels by improving the nutrient delivery through increased blood flow. Athletes will appreciate this ingredient because it is absorbed quickly by the body and has a longstanding effect which makes it the ideal choice for pre-workout consumption.
N-Acetyl-L-Tyrosine 300 mg *
Caffeine Anhydrous 175 mg *
Hordenine HCl 75 mg *
Taste
I personally don't care much about the taste of pre workouts, I usually just shoot them back. But for those that do care, I had the watermelon flavor and it was not bad. does not taste like watermelon at all but it's drinkable.
Effectiveness
outrage promises intense focus,explosive energy, power and pump , but all i really got was good energy and focus.
outrage gives me the energy that i need and the focus to go trought my workout and still not crash afterworts like some pre's on the market.
This pre does not give you the pump we all are looking for in a pre workout, if you want pump you can add 2-3 gm of citrulline malate and a gram of agmatine.
Overall
Outrage is definitely not a game changer but you will also not be let down to a point where you say that you have waisted your money .
I like a clean energy with improve concentration. Know how much of what I'm taking and this one did just that for me .
I'd recommend it for people trying to achieve just about any physically demanding goal.