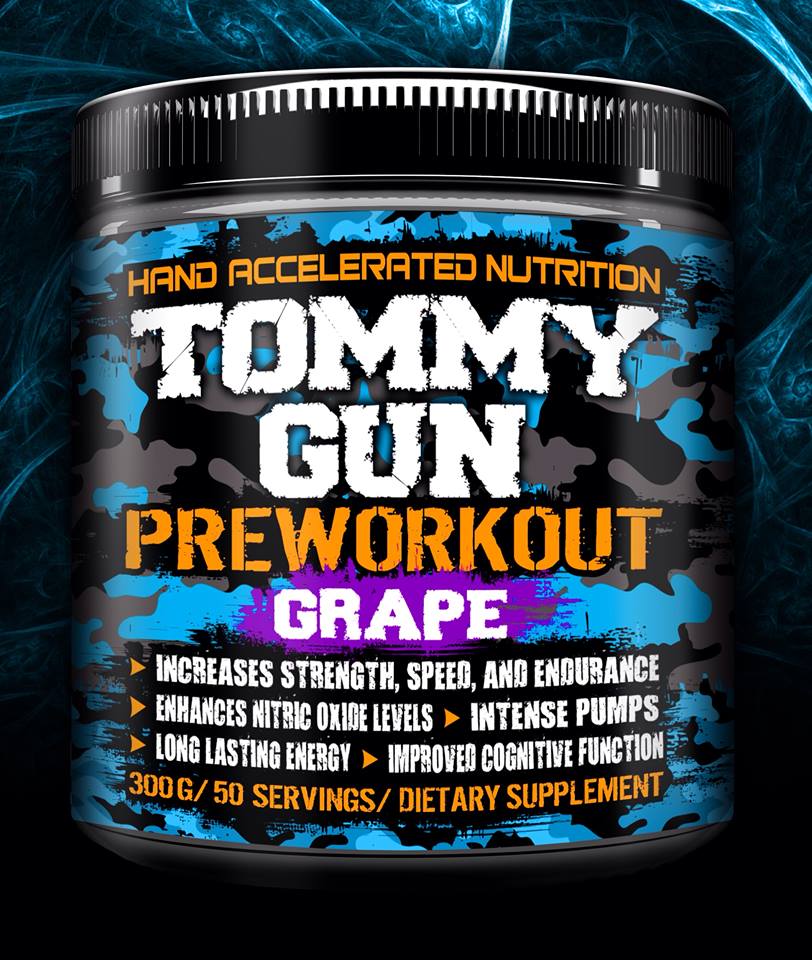 Today I will be reviewing Tommy Gun pre workout by Hand Accelerated Nutrition. I have been using the pre workout for quite some time and I must say that it is very effective in getting me through my workouts. Hand Accelerated Nutrition is about 4 years old and it is a local brand that operates here in Louisiana. It is a very popular brand among NPC and IFBB Professionals that live here.
TASTE: 9.2
The taste of Tommy Gun is very good. Currently, it is only available in 2 flavors. Watermelon and Fruit Punch. I have tried both flavors and I can honestly say that neither of them disappoints. A few brand new flavors would be very nice to add to the current lineup of flavors but the 2 existing ones are a great start.
MIXABILITY: 9.5
Tommy Gun mixes pretty well but you may have a little bit left at the bottom of your shaker cup or whatever you use to drink it. Normally I put mine in my Ninja blender and it dissolves every bit of it. I also usually take the scoop out and shake it up before I put my scoop in my cup or blender to make it a little easier to mix.
EFFECTIVENESS: 9.7
Tommy Gun is very effective when it comes to giving you the necessary energy to get through a grueling workout. It is best to take it about 30 minutes before you go to the gym so that you can give it some time to get in your system. Once it is in your system, you will definitely feel it. Stick to the required dosage if you are sensitive to stimulants because it has quite a bit of kick in it.
PRICE: 9.4
The price may be a bit of an issue for some people that may be on a strict budget. At $45, I can honestly tell you that it is well worth the price.
OVERALL
Overall, I give Tommy Gun a 9.5 because I think that this is a very good pre workout. The taste kind of reminds you of Kool-Aid because it tastes so good. There is no bitterness nor an after taste that leaves that bad feeling in your mouth. It mixes a lot better than other pre workouts that I have used although you may have a very little bit sitting in the bottom of your cup. It is very effective in giving you that lasting energy that you need and you can get a great pump if you mix it with some creatine. I would recommend Tommy Gun to anyone that is looking for a great pre workout to add to their supplement regimen. Be sure to follow the directions on the label if your body can not tolerate stimulants that well as this product has a great deal of strength.. Tommy Gun will most definitely give you the right amount of energy that you need so that you can reach whatever fitness goal you are trying to achieve.