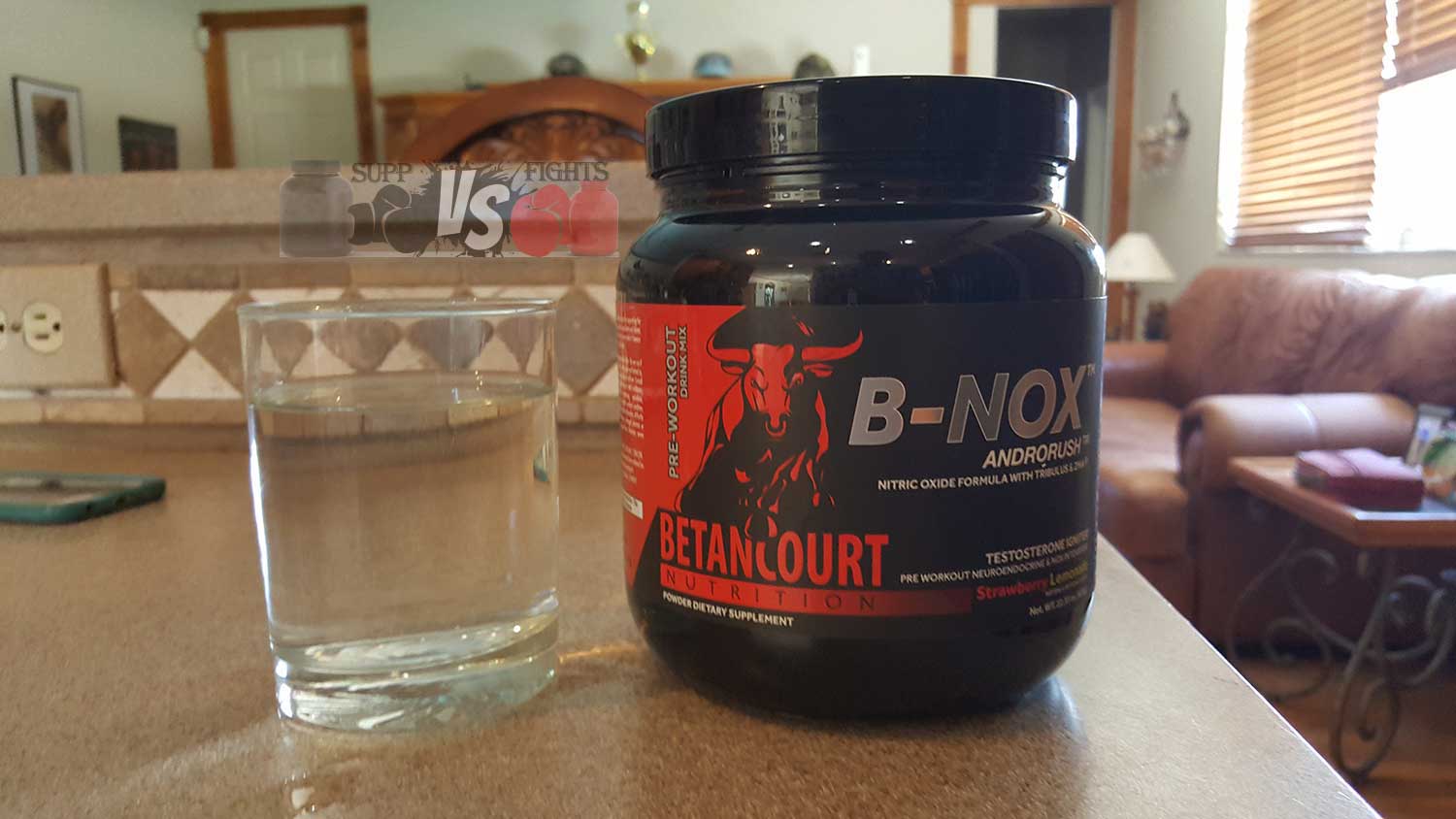 What is Bullnox Androrush?
When it comes to pre-workout, Bullnox Androrush (B-Nox) is one of the most unique products on the market. B-Nox combines a nitric based pre-workout formula with a testosterone booster; therefore, offering two of the most common bodybuilding supplements into one product.
Betancourt, the company that produces this product, has created an energy matrix through, N-Acetyl Tyrosine, Glucuronolactone, Caffeine Anhydrous, and Theobromine for a sustainable energy rush. The company claims that this matrix offers a "lower chance of jitters."
The testosterone boost seeks to both increase aggression as well as muscle repair, growth, and recovery.
Bullnox Androrush also includes, in small doses, many of the most sought-after ingredients in a pre-workout, in addition to the matrix above, one can find Beet Root, which provides nitric oxide, as well as black pepper to prep your system prior to the "rush" kicking in.
B-Nox is not a concentrate, so expect large scoops. But because it is not a concentrate (i.e. the base model of C4), it also includes BCAA's and three different sources of creatine.
So, most importantly, what does all of this mean when put into action?
Taste and Mixability: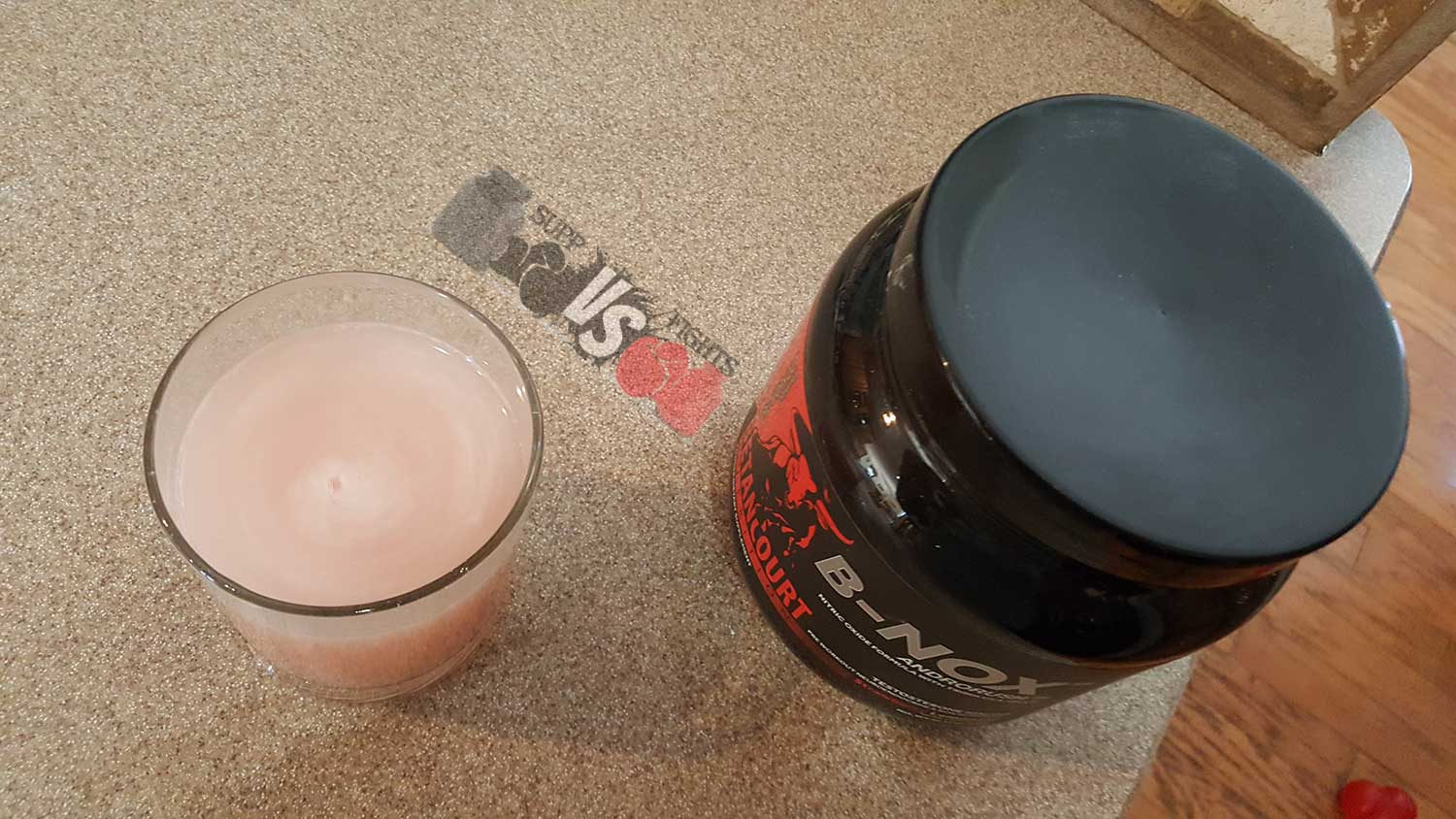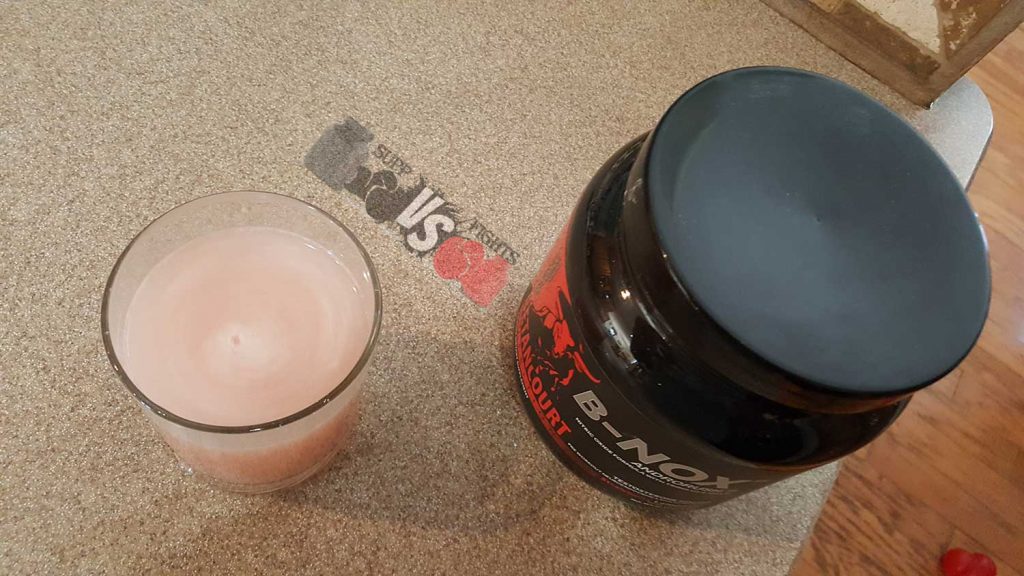 B-Nox lives up to its reputation as one of the best-tasting pre-workouts on the market. No, I would never give it a ten out of ten for any of its flavors, but having tried all six of the flavors Betancourt offers, I have never been disappointed in any flavor. In addition, when you consider some of the ingredients, beetroot and black pepper, for example, it is impressive that this product never leaves an aftertaste. I personally enjoy the strawberry lemonade flavor best because this pre-workout does not escape the alkaline flavor that most pre-workouts have, but they have created flavors that taste well sour. Such as green apple and surprisingly watermelon.
As far as mixability goes this is the best "large scoop" pre-workout I have ever tried. There is a reason that this has earned its place in my regular pre-workout rotation. While it still leaves some floaters on the top and it has the tendency to clump at the bottom, if stirred well and ingested immediately B-Nox goes down smooth and tasty.
Energy Boost: 
If you enjoy the intense tingle rush of Beta-Alanine, this is not your product. Though it contains it in mild doses, Bullnox Androrush aims to create sustainable energy through other sources. Betancourt uses clever wording on its packaging: "less chance of 'jitters' or 'crash[2].'" This statement is fairly true, it does offer less crash, but there still is a crash. I do not experience jitters from this product, but for the entry level bodybuilder the L-Arginine and Beta-Alanine might cause some in beginners or those with a lower tolerance. Also, there are minor amounts of caffeine in here which may contribute to crash. But I would not consider this a caffeine based pre-workout. It is there to help with excitement and focus, but it is not one of the integral ingredients to this product.
However, B-Nox offers an intangible energy source that is not built into the formula of other pre-workouts: emotional energy.
Though it is impossible to quantify, the testosterone booster succeeds in creating emotional aggression. Well, emotions in general, but I will speak more on that later. When combined with the right music, B-Nox's major selling point really shines. When one can direct the emotional energy that a testosterone booster provides, the possibilities are endless.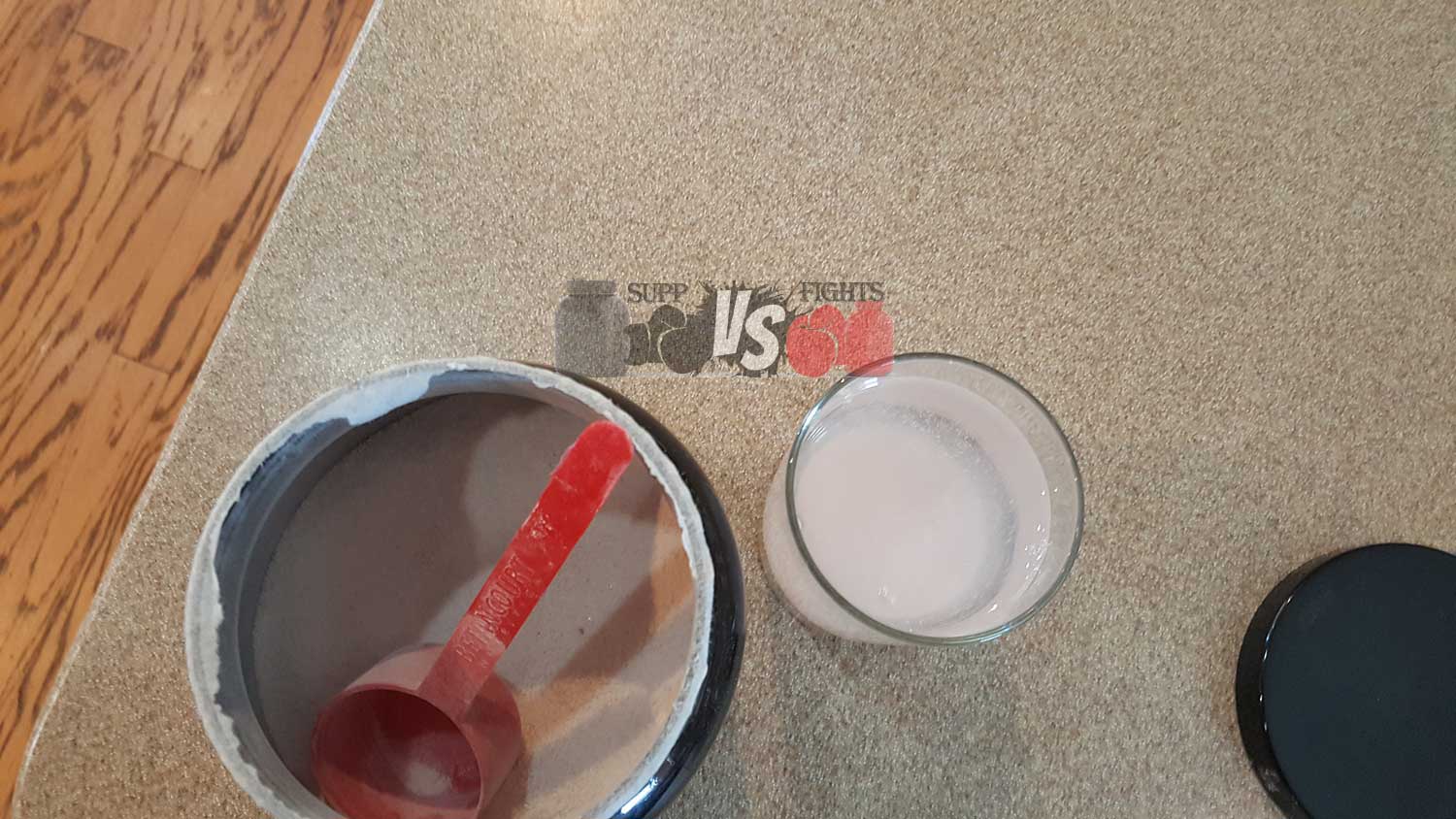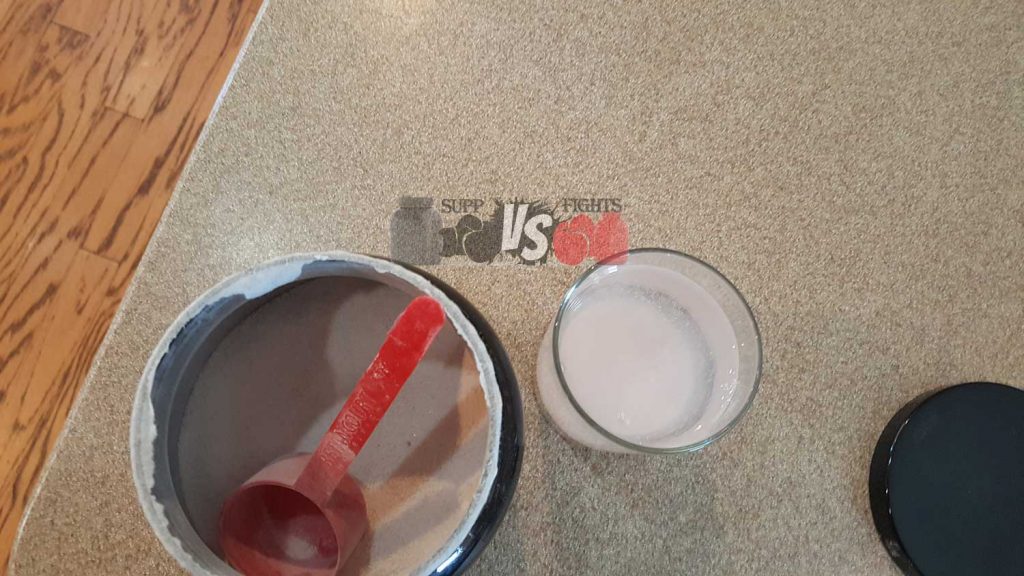 Side Effects:  (there are a lot)
Here lies the largest downside to Bullnox Androrush and the reason it has fallen in its popularity – side effects. Testosterone, which this product successfully delivers, will create hormonal imbalances in the user. It increases sex drive, it increases aggression, and it increases the frequency of mood swings. An individual using testosterone will feel heightened emotions, which can be dangerous. If a person is going through a rough emotional period in life, they should not take this product. If someone is already prone to anger they should not take this product.
Women, under no circumstances, should take this product.
However, it does avoid most of the usual side effects from pre-workout: crash, difficulty sleeping, and extreme tunnel vision. On most days, this is an extremely pleasant product to take that leaves the individual feeling warm and fuzzy throughout the day.
Does it really boost testosterone?  (Yes!)
Absolutely it does. No, you will not be ingesting as much testosterone as you would if you used it as a separate supplement, but for the athletic build or the amateur bodybuilder, it provides more than enough testosterone. Just, as listed above, consider the side effects that come with taking testosterone.
Also, remember to wean yourself off of testosterone, or else risk losing sex drive, aggression, muscle recovery, and sense of adrenaline.
Pump
As a Nitric based pre-workout this product does boost your pump. However, it is not the focus of the product, and so it does not offer the skin splitting pump that other products will.
Price !!! 
It would be hard to argue for a better budget pre-workout than Bullknox. B-Nox is listed at around $29.99 at most major retailers. This is definitely a direct reflection of its small corner of the market. It is only available to men, and many are wary of testosterone. At one point it was easier to find B-Nox in pill form than in powder form and this also hurt its popularity. As a result, B-Nox offers 35 "large scoop" servings at $.86 per scoop. I have been lifting for six years now, and unlike most products, I do not need to double scoop this product. I usually go with about 1.5 scoops, which brings it to a practical price of $1.12 per serving. When one considers that they are receiving both testosterone and pre-workout this is an incredible bargain.
Ingredients
B-Nox Androrush ingredients
Calories
50
Total Carbohydrate
12 g 4%*
Sugar
0 g
Potassium (as citrate & glycerophosphate)
20 mg <1%
Vitamin B6 (as pyridoxine HCl)
1 mg 50%
Magnesium (as oxide, aspartate)
165 mg 41%
Zinc (as oxide, mono-L-methionine sulfate & aspartate)
25 mg 167%
Yohimbine HCI (Pausinystalia yohimbe)(bark)
1 mg *
B-NOX® Pre-Workout Formula 16,328 mg **
Strength-Endurance Blend
Glucose Polymers (Maltodextrin), Taurine, Beta-alanine (CarnoSyn®), Dicreatine Malate, Glucuronolactone
Energy & Endurance Blend
Caffeine Anhydrous, Theobromine, Beet Root (Beta vulgaris) (root)

Anabolic Solidification
L-Glutamine, Branched Chain Amino Acids (L-Valine, L-Leucine, L-Isoleucine), Creatine Monohydrate, Creatine Ethyl Ester HCl, L-Tyrosine, N-Acetyl-L-Tyrosine, Guarana (Paullinia cupana) (seed) (std. to 22% Caffeine), Creatine AKG (Alpha-ketoglutarate), L-Histidine HCl
Endocrine Ignition Blend
Maca Extract 4:1 (Lepidium meyenii) (root), Tribulus terrestris extract, (std. to 40% saponins) (seed), Stinging Nettle (Urtica dioica), (std. to 8% sitosterol) (root), Coenzyme Q10

Pre-Launch
Bioperine® (Black Pepper Extract), (std. to 95% piperine), (Piper nigrum) (fruit).

In Summary
Who is this product for?  This product is for the person who has become numb to pre-workouts and is looking for a new energy source. I like to use Bullnox Androrush every third cycle as it seems to reset my tolerance while also giving me a great energy per scoop.
B-Nox is also for the budget lifter. Rather than buying separate pre-workout and testosterone products you can save money by stocking up on B-Nox.
PROS:
Successful Test boost
(mostly) clean energy
Emotional Energy
Taste
Limited Crash feeling
No jitters
Price!!
CONS:
Testosterone side effects
Mood swings
Hard to find in local stores (hin:, go to Vitamin Shoppe)
Only for Men
Conclusion
While there are a few things that B-Nox does not do well, the things that it does do well is does incredibly well. This product should be tried at least once by any man in a good emotional mindstate.