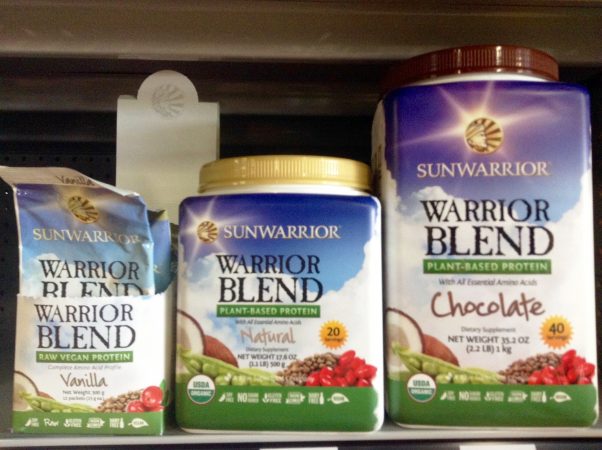 Sunwarrior Warrior Blend Protein: A Product Review
Sunwarrior is a vegan line of supplements that includes four lines of protein powder, Warrior Blend and Classic, as well as Classic Plus and Illumin8 plant based organic meal, and supplements such as Ormus Super Greens, a women's multivitamin, and more. All of Sunwarrior's supplements are sugar free, dairy free, gluten free, non GMO and vegan.  This means that these supplements are easily digested. For the purposes of this review, I will be discussing Sunwarrior Warrior Blend Protein powder.
The Difference between Sun Warrior Classic and Warrior Blend
Many people wonder what the difference is between protein powder lines within a particular brand, and with Sunwarrior there is no exception. A common question on the Sunwarrior Facebook page is, "what is the difference between Warrior Blend and Classic?" The short answer is ingredients. The Classic protein is a very short list of ingredients, with only one protein, Raw Whole Grain Brown Rice Protein. This is a gentle protein that contains all of the essential amino acids and 15 grams of protein and 0 grams of fat per scoop. If you do not require or prefer blends, Classic is for you. Warrior Blend, on the other hand, as the name would infer, is a protein blend. The proprietary blend contains Pea Protein, Hemp Protein, Whole Ground Coconut, and Goji Berries, and 16 grams of protein and 1.5 grams of fat per scoop and also has a complete amino acid profile. You can find Warrior Blend in several flavors: natural, chocolate, vanilla, and their two new flavors, berry and mocha.
Sunwarrior Warrior Blend Protein Ingredients
Sunwarrior's totally organic and most up to date list of ingredients begins with their proprietary protein blend of Organic Pea Protein, Organic Hemp Protein, and Organic Goji Berry. In addition, Warrior Blend contains: Organic Berry Flavor/Organic Vanilla Flavor Blend/Organic Chocolate Flavor Blend/Alkalized Cocoa/Organic Cocoa/Organic Mocha Flavor (flavoring ingredients all depend on flavor purchased), Organic Guar Gum, Sea Salt, Organic Stevia Extract, and Organic Whole Ground Coconut.
The protein blend in Warrior Blend is excellent.  Pea protein is not only a smoother blending protein and easy to digest, but it also contains a great amount of protein, as well as an amino acid profile that includes many of the BCAA's known for decreasing muscle breakdown after workouts. Hemp seeds are full of omega fatty acids which have anti inflammatory benefits, as well as benefit heart health, on top of being packed with protein and all 21 amino acids, not just the 9 essential amino acids. Finally, goji berries are a superfruit. Gojis are positively loaded with protein, beta carotine (which promotes healthy skin and eyes), vitamin c, and antioxidants. Goji berries are low in calories, fat free, and are a wonderful source of fiber and complex carbohydrates.
Coconut meat is a great source of fiber, as well as contains medium chain triglycerides, which are healthy fats that should be consumed (in moderation) every day. MCT's are fatty acids are digested easily by your body, and sent directly to the liver, which creates a thermogenic effect and raises metabolism. This is the reason for the claim that MCT's are burned by the body as fuel instead of being stored as fat. MCT's support a healthy gut, because they have properties that combat harmful bacteria, viruses, fungi , and parasites. They also contain antioxidant properties. Because of all of these reasons, coconut meat, consumed in moderation will help you feel full and maintain a healthy weight, have more energy, and assist with gut health (leading to clearer thinking, balanced hormones, improved mood, better digestion).

Sunwarrior Protein
Over 85 Percent Pure Protein With A High Digestion Efficiency Rating!
If you have previously purchased Sunwarrior and noticed a difference in ingredients and/or taste, as I did, the reason is a recent change to their Warrior Blend formula. I inquired with Sunwarrior as to why they quietly replaced the cranberry with goji berries, and eliminated the coconut oil previously in the Warrior Blend. Here is the response that I received, " We did recently reformulate our Warrior Blend. It was important to our customers that the product was certified organic, and unfortunately the USDA doesn't recognize cranberry seed as a certifiable source of protein, so we replaced it with the superfood, goji berry. We also wanted to use less-processed, whole food ingredients so we replaced the coconut oil that was used for the medium chain triglycerides with wholefood ground coconut. We also replaced fenugreek and konjac fibers with guar as it is a more reliable organic binder. Lastly, a few of the flavoring ingredients were removed as our suppliers of them were not willing to pay the fees to become certified organic, which is a mandatory requirement. Our goal at Sunwarrior has always been to make the highest quality products with the cleanest ingredients out there. Everything we produce is still raw and we make this claim towards the bottom of the tub where you will see "A Raw Superfood company."
PROS:
Taste – It is not bitter, and has a pleasant taste. If you choose to blend in any extra fruit like banana and/or berries, the taste is also excellent.
Flavor Options: There are 5 flavors to choose from – Natural, Chocolate, Vanilla, Berry Blend, and Mocha.
Mixability – As with most proteins, it always blends better in a blender bottle or traditional blender, but does shake up fairly easily in a shaker bottle.
Texture – Sunwarrior Warrior Blend is not gritty like many vegan proteins can be, and therefore has a pleasant mouth feel.
Complete Amino Acid Profile
Dairy Free – Dairy free supplements tend to be gentler on your stomach, easier to digest, and are better for bone and joint health, aiding in faster recovery from workouts.
Gluten Free – Gluten Free supplements tend to be gentler on your stomach and easier to digest.
CONS:
Price – Sunwarrior Warrior Blend costs about $1.182 per ounce, according to pricing information on Sunwarrior's website. However, better deals can be found both online and in stores.
Only 16 grams of protein per scoop. There are many vegan proteins out there with much more protein per scoop.
1.5 grams of fat per scoop. This is not necessarily a con since it is good fat, but if you are monitoring your fat intake, even too much good fat is a bad thing, and there are other vegan protein powders that contain less fat.
When using more than one scoop, if you do not increase your non dairy milk/juice/water amount, the mixture can get quite thick. This can also be a pro if you're looking for a more shake-like texture.
Overall, Sunwarrior's Warrior Blend protein has a nice taste, and it's a great source of raw plant based protein with  a complete amino acid profile. If you don't mind the high price tag, it's worth a try. You can purchase Warrior Blend in three sizes, 1kg (2.2lbs or 35.2oz), 500g (1.1lbs or 17.6oz), and single serve sample packets.