Fish Oil and cod liver oil are two entirely different oils. They have different fatty acid profiles and come from different sources. Cod liver oil is extracted from the liver of deep-sea cod fish, whereas, fish oil is extracted from cod, flesh of tuna and other oil fish species. Cod Liver oil is rich in vitamin A and D, but has less omega-3s, while Fish oil is rich in omega-3 fatty acids like DHA and EPA, but low in vitamin A or D.
Both Fish and cod liver oil have been scrutinized for the myths that are associated with them. But in this review on Nordic Naturals Arctic-D Cod Liver Oil vs. Carlson Labs Cod Liver Oil, we are going to find answers that are associated with the consumption of cod liver oil (also check our review: Carlson Labs Fish Oil vs. Nordic Naturals Fish Oil Supplement for information on fish oil).
About Cod Liver Oil
Cod liver oil has been a standard supplement of all cold countries that are deprived of sunlight for most of the year. It's considered a must-have for men and women who are going to conceive, and for women who are in their pregnancy. Cod liver is considered vital for growing children too.
Why Should You Use Cod Liver Oil?
Cod liver oil is beneficial for people who have impaired their body's pancreatic function by consuming large amounts of polyunsaturated fats or those who are suffering from diabetes. It helps with proper functioning of brain and nervous system. Cod liver is able to do all this to our body because of the eicosapentaenoic acid (EPA) and docasahexaenoic acid (DHA) that comes with it.
Water Soluble Vitamin A could cause toxicity
Several studies have pointed towards the risks associated with the use of synthetic vitamin A found in supplements. A fat-soluble vitamin A that's found in cod liver oil is almost 10 times safer than water soluble vitamin A. This allows for individuals to consume much higher dose of vitamin A without experiencing any toxicity.
Suggested Dose Of Vitamin A (From Cod Liver Oil)
[wpsm_comparison_table id="18″ class=""]
Suggested Dose Of Vitamin D (From Cod Liver Oil)
[wpsm_comparison_table id="19″ class=""]
$42.46
$47.95
in stock
5 new from $42.46
as of March 12, 2020 6:00 am
$39.90
$46.90
in stock
50 new from $39.08
as of March 12, 2020 6:00 am
Last updated on March 27, 2023 9:48 am
Is Nordic Naturals Arctic-D Cod Liver Oil A Good Source Of Cod Liver Oil?
Nordic Naturals is the undisputed cod liver oil dietary supplement that provides the highest level of omega-3s per milligram. The cod liver oil that's extracted from Nordic Naturals is one of the finest you could get. However, I have already aforementioned the suggested dose of vitamin A and D, so it's worthwhile to look at the nutrition labels of supplements before making a purchase. On the Nordic Naturals Artic-D nutrition label, it says 230-920 I.U of Vitamin A and 1000 I.U of Vitamin D for a 5ml serving size which is slightly more than our daily requirements, but this isn't a very high overdose, so toxicity couldn't be an issue.
Nordic Naturals Arctic-D: The Taste
Nordic Naturals Arctic-D Cod Liver Oil is available in four different flavors: Peach, lemon, orange and unflavored. Be it cod or fish liver oil, it tastes awful even with the flavorings. The best way to use Nordic Naturals Cod liver is to mix it with some fresh juice to reduce the foul aftertaste.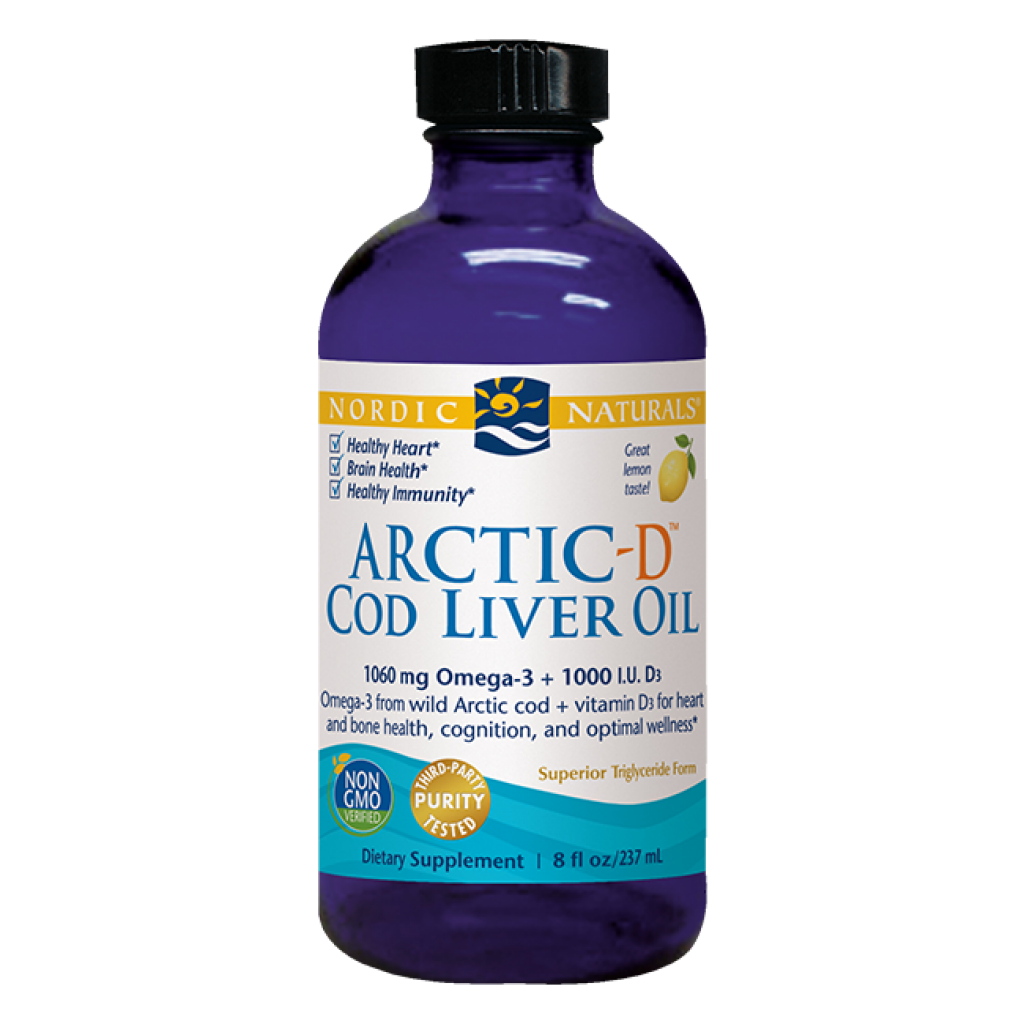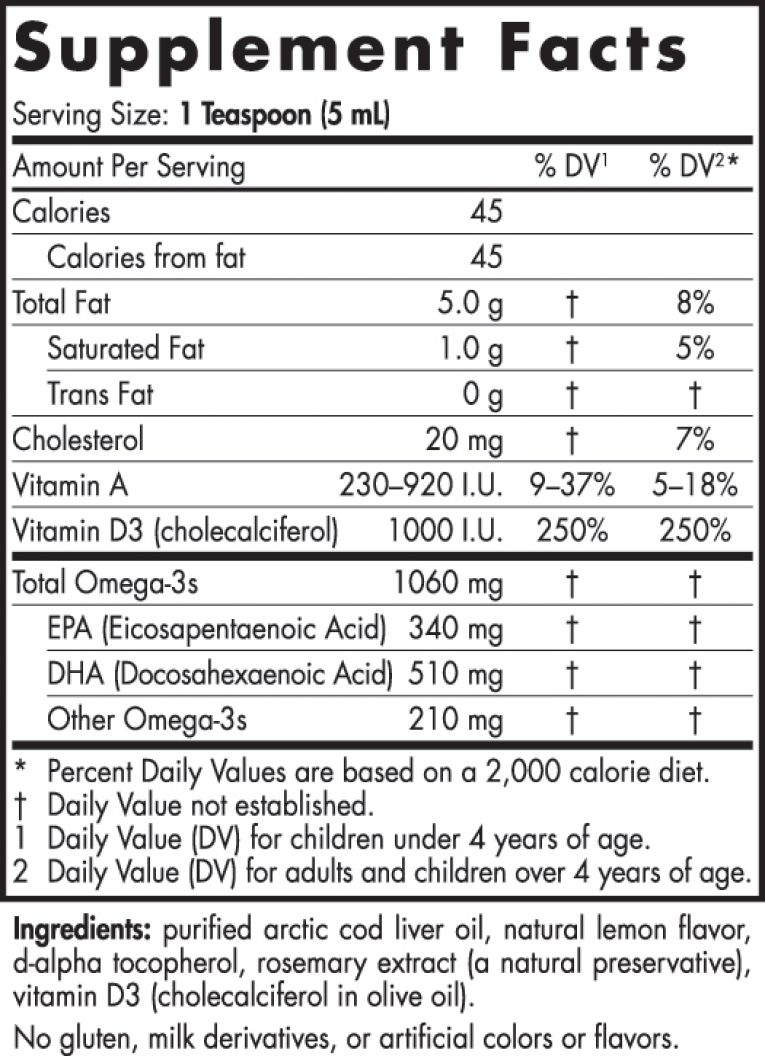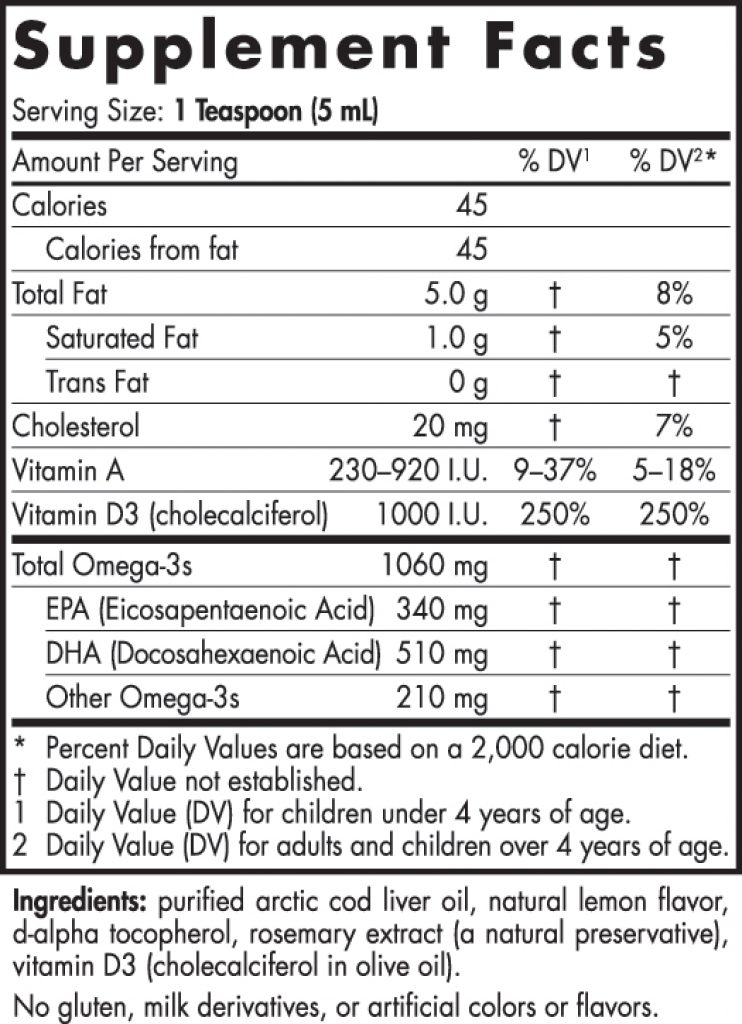 What About Carlson Labs Cod Liver Oil?
Carlson Labs Cod Liver Oil is famous for its lemon flavored cod liver oil. It's IFOS certified and includes 1100mg of omega-3s per teaspoon. Carlson Labs has a great reputation for its quality supplements, but what's really great about this cod liver oil is its optimal dose of vitamin A and D per serving. So you get 850 IU of vitamin A and 400 IU of vitamin D3, which are very close to the daily requirements. Check out the complete nutrition label: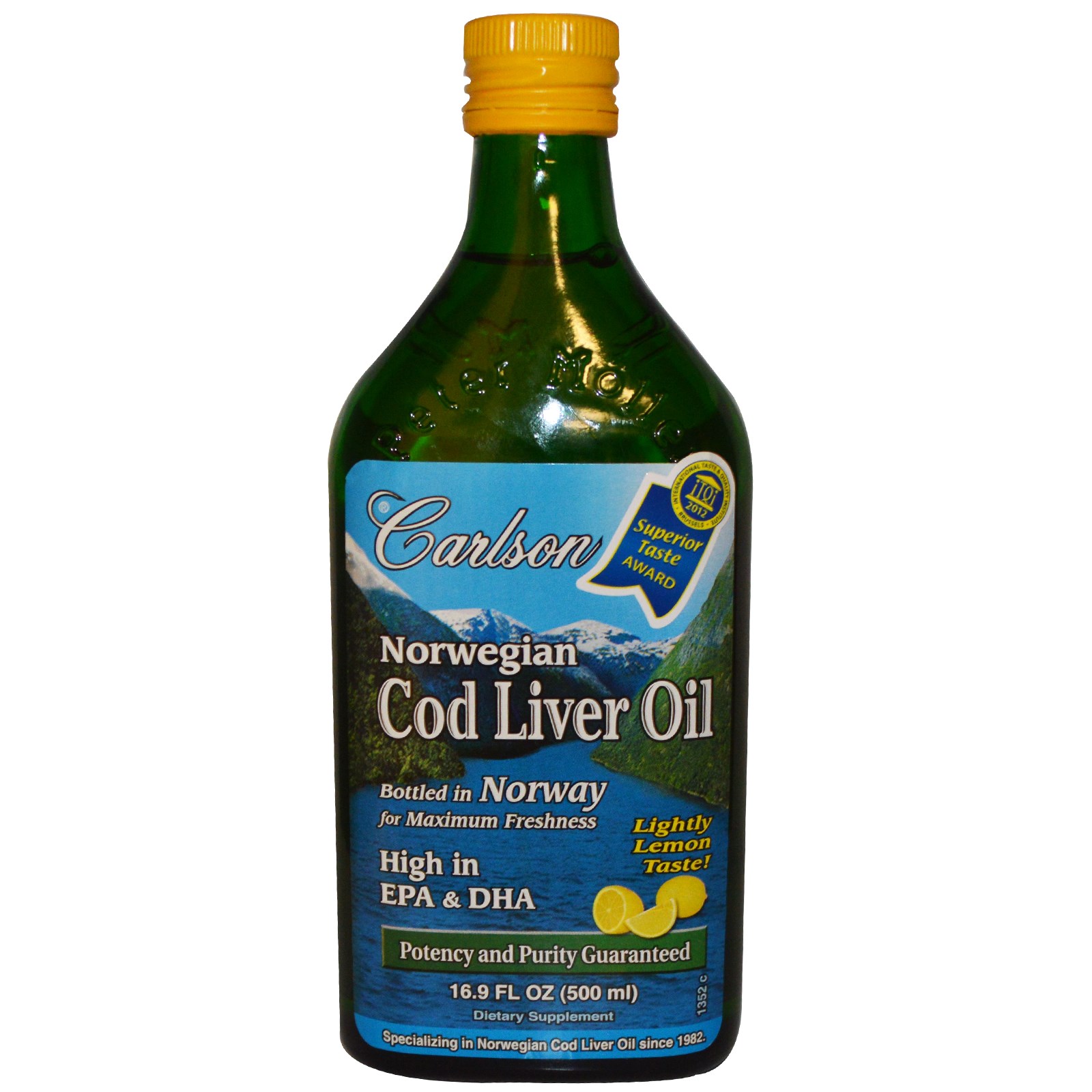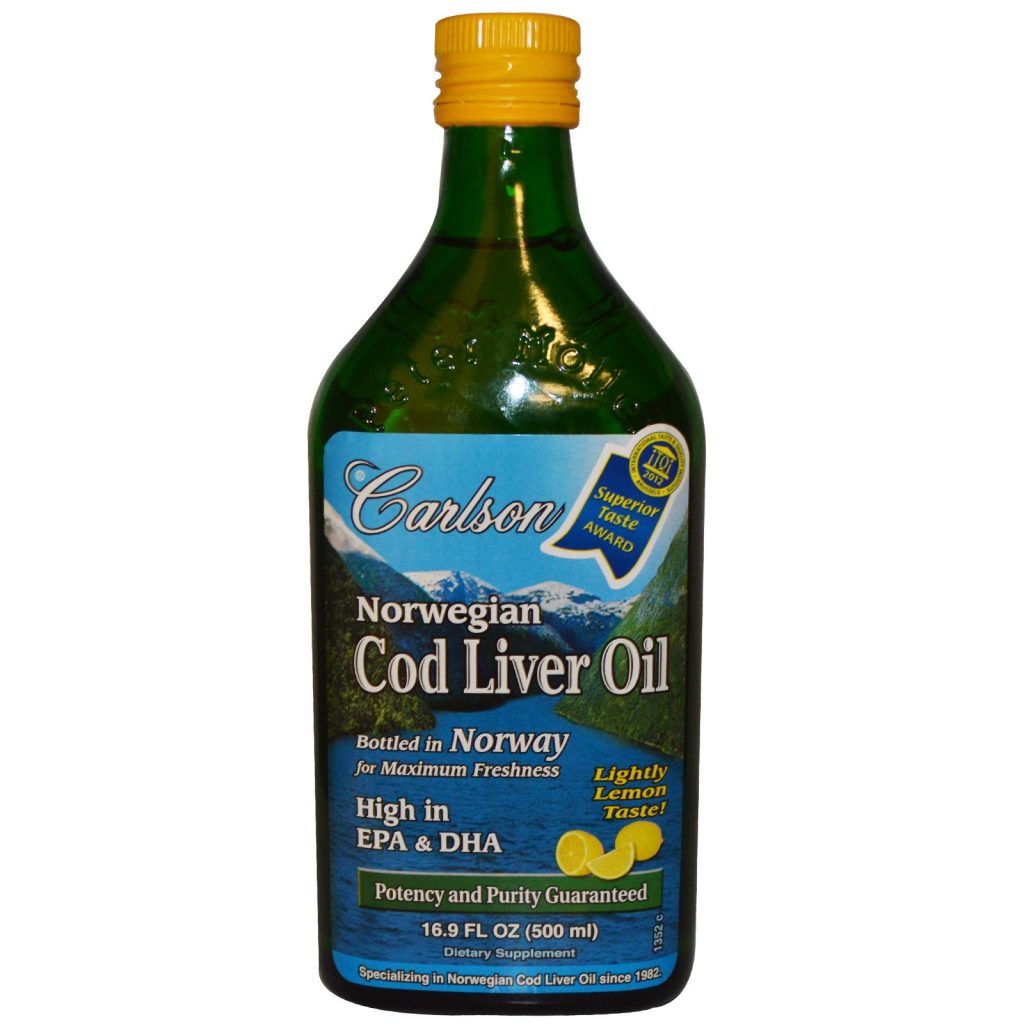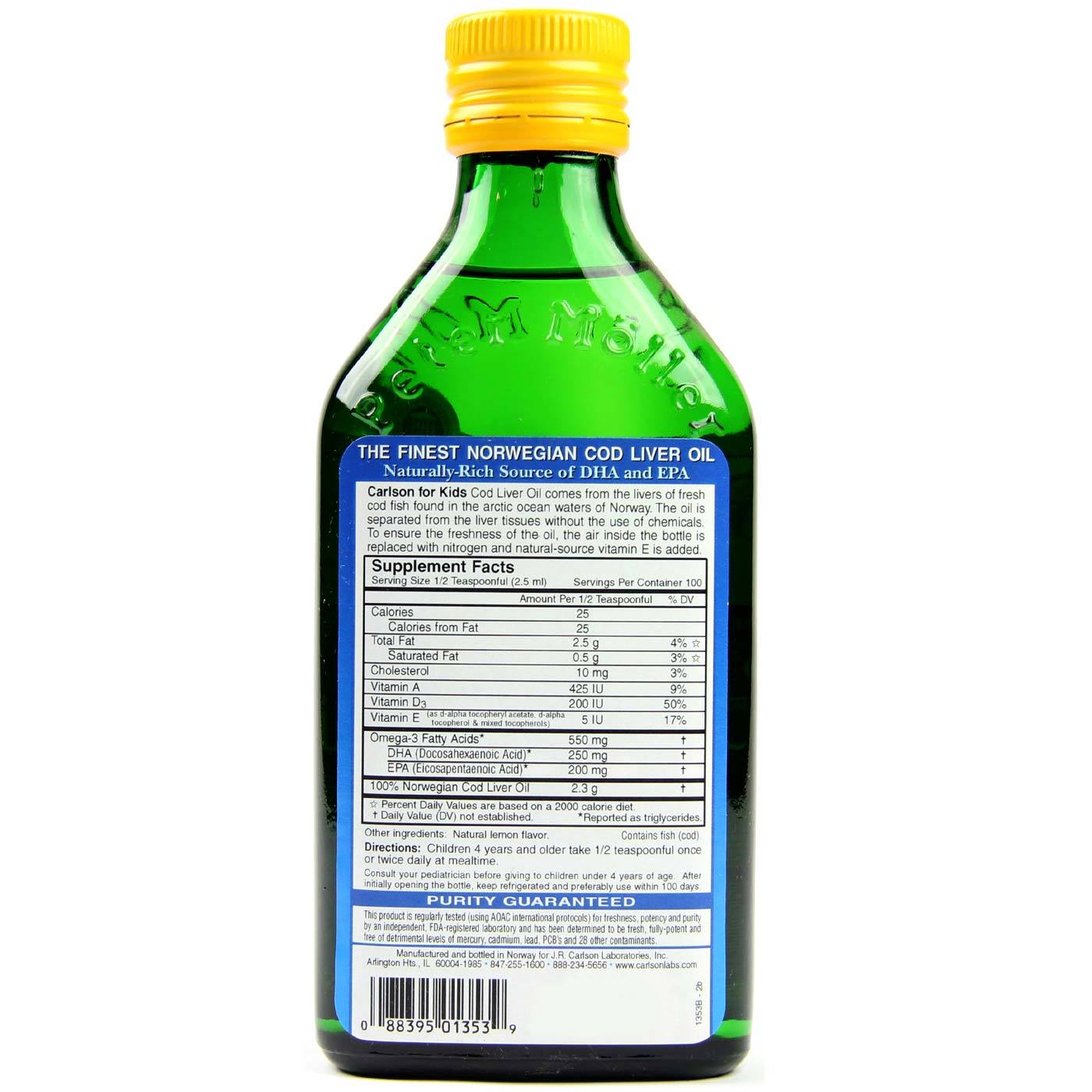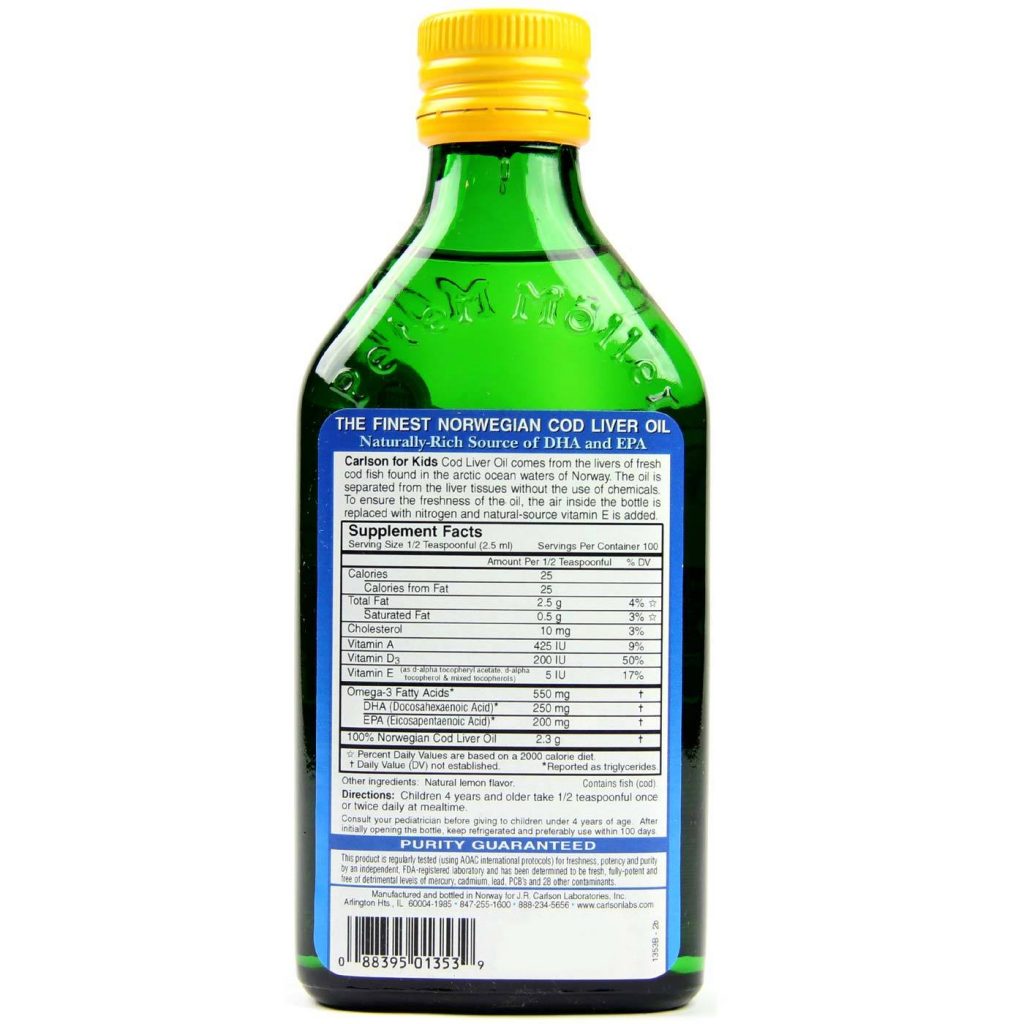 Carlson Labs Cod Liver Oil: The Taste
Carlson Labs is known for its good taste and if you have tried fish or cod liver oil before, this is definitely going to taste better.
Verdict
Carlson Labs offer a more optimal dose of vitamins and omega-3s and also tastes better. It costs a few dollars more but it's totally worth getting it. Nordic Naturals comes second, but it's a great choice too; just make sure you don't try the lemon flavor.