Side by side comparison Of O.N. Amino Energy vs. Cellucor C4
Pre-workouts are not appendages anymore–they are must-haves nowadays, especially after we recognized that to achieve our body goals, it requires more than just eating the right foods, and lifting more and precisely. It's an era of supplements, and every bodybuilder or fitness trainer likes to keep their stock full. However, with great options come great enigma, that leaves most of us fully muddled.
Sometimes, making a decision could get so tough that you could end up with spending hours just to decide which supplements to pick from the shelves. For some, it's about getting the best, and for others, it's about trading off a renowned and expensive brand with some promising new brand that's more affordable. For someone like me, it could also be about giving my taste buds something new to cheer about.
If it's the first time you are going to try a preworkout, or if you are still in the process of breaking your skepticism about the need of one, let me tell you that preworkouts is a brilliant way to fuel up your body for a rigorous training session.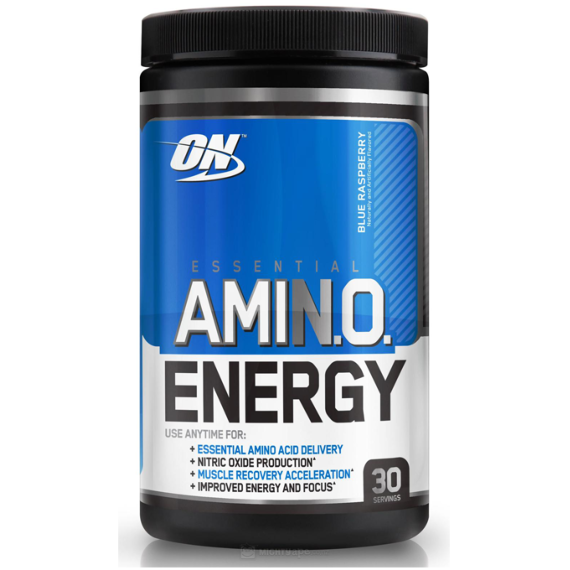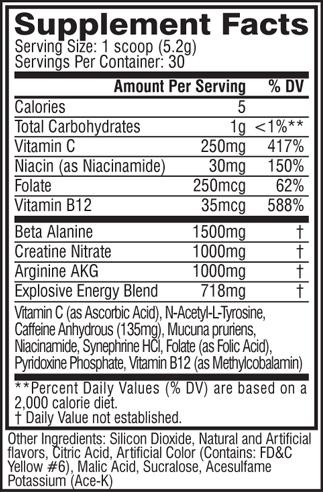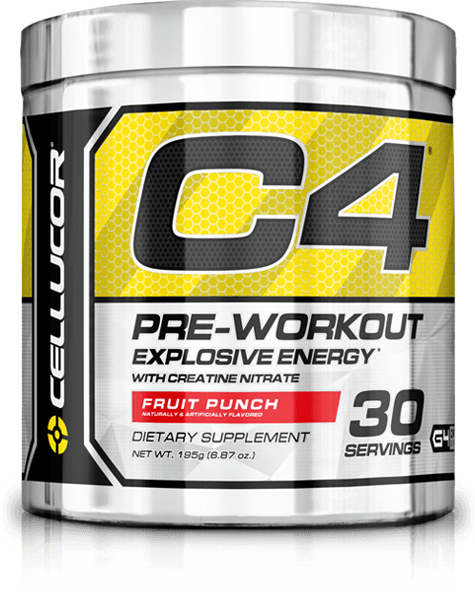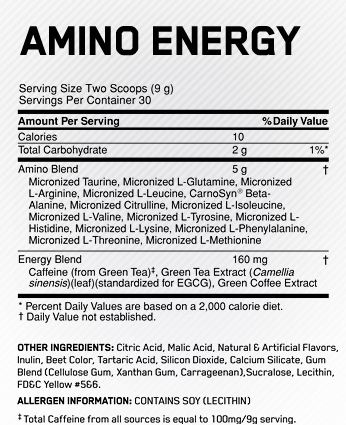 O.N. Amino Energy vs. Cellucor C4
Today, it's going to be O.N. Amino Energy vs. Cellucor C4. But before I start with the breakdown of ingredients, effectiveness, price, taste, and dosage, I would like to make it clear that Amino energy isn't a dedicated pre-workout. It could be used as a pre-workout, intra-workout and also an energizing post-workout. Whereas, Cellucor is a pre-workout. In fact, it's THE pre-workout that's used by many renowned weight trainers. So I will be reviewing both products as a pre-workout.
O.N. Amino Energy vs Cellucor C4: Preworkout ingredients
Both pre-workouts are loaded with ingredients but what I have discovered over these years is that there are 4 major ingredients that you definitely need to have in your pre-workout. The day I learned that, my decision with buying pre-workouts got a lot easier. The four ingredients are caffeine, branched chain amino acids (BCAAs), Beta-alanine and creatinine.
Let's discuss the real facts. Cellucor C4, even though it's a pre-workout, it doesn't have any amino acids (except for beta-alanine). Whereas, O.N. Amino Energy has 5g of BCCAs, including non-essential amino acids like Beta-alanine.
Caffeine: The optimal dose of caffeine as a pre-workout is 200mg-500mg. Both O.N. Amino Energy and Cellucor C4 have 160mg of creatinine (O.N. serving size is 9g, while that of Cellucor C4 is 6g).
BCCAs: Apart from Beta-alanine, C4 has no other amino acids, but it does have a whopping 1500mg (optimum dose is 1.5g to 5g) of beta-alanine and 1000mg of arginine AKG. Amino Energy, on the other hand contains 5g of BCCAS per serving. O.N. Amino Energy has a blend of 14 different ingredients, including micronized L-leucine, micronized L-Isoleucine and micronized L-valine, which are especially important for increasing protein synthesis, suppressing protein breakdown and improving metabolism. The optimal dose of BCCAs as a preworkout is 5g, which is exactly what you get from one serving of O.N. Amino Energy.
Beta-Alanine: More volume equals more gains, and to increase the intensity of your training, you need muscular endurance. It's not clear how much beta-alanine is there in O.N. Amino Energy, but Cellucor C4 has the optimal 1500mg included.
Creatinine monohydrate: If you are looking for an explosion of strength, you need to have creatinine monohydrate in your pre-workout. If you are looking for those really big lifts, get around 5g of creatinine as a pre-workout and 20g over the entire day. O.N. Amino Energy doesn't include creatinine, but Cellucor has 1000mg of creatinine per serving.
O.N. Amino Energy vs. Cellucor C4: Taste and Mixability
This is another important factor as some of the pre-workouts taste so bad that you never get the courage to use them again. I have had some very bad experiences, but both Optimum Nutrition Amino Energy and Cellucor C4 have a great taste. But I have to give a nod to one them, that would be Cellucor C4 due to its variety of delicious flavors. If you are getting O.N. Amino Energy, don't try peach-lemonade though.
O.N. Amino Energy vs. Cellucor C4: Price
The good news is that you don't have to make a choice on the basis of price for these two pre-workouts as they both will cost you around $20 on Amazon (Amino Energy is available for as low as $18.44).
Are there any concerns or safety risks?
I have done a lot of research about how different ingredients in supplements work, and out of all those that we discussed above, my only concern is with creatinine. Creatinine is safe to use if you know how to cycle it. This factor largely determines my final verdict. BCCAs have no known side effects except that they are found unsuitable for pregnant and breastfeeding and for those who have to undergo a surgery (BCAAs cause a spike in blood glucose level).
O.N. Amino Energy vs. Cellucor C4: Final Verdict
I would choose O.N. Amino Energy over Cellucor C4 and there are two reasons why. First, it's the creatinine in C4 that's my major concern. There is enough evidence available that corroborates the potential risks of creatinine over prolonged use. Creatinine tends to put your kidneys under intense stress and it's only suggested that you cycle it.
Second, it's the absence of BCCAs in Cellucor C4. BCCAs are necessary even for a pre-workout, because they help with the protein synthesis (so you are protected against muscle loss during intense workouts).
Let me know what you think about my Amino Energy vs. Cellucor C4 review using the comments section.